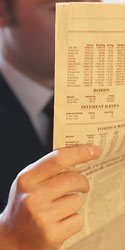 James Harris has some interesting thoughts on going paperless when it comes to magazines. In particular he looks at how his Kindle has changed the way he reads. I have a Sony Reader which uses a similar screen and I agree with him that it is a very pleasurable way to read. Here are some quotes from his post.
We are really very close to having a paperless society that pundits have talked about every since I can remember. People always exclaim they hate reading off the computer screen even though they spend hours a day doing so. Now the Kindle offers a better way to read, even better than paper, and that starts to suggest going paperless is possible.
I'm a little less optimistic. I think we have a long ways to go before the infrastructure for really being paperless is in place. I agree that all the technology is there, but things have to hit a critical mass before they really become useful and I don't see that happening anytime soon.
Paper is still very inexpensive. The used paperback I bought for $1.00 is very durable and I could go through 300 of them before approaching the cost of an electronic reader. Even more important, the books still retain some value after I read them. I can give them away, sell them, or trade them in for other reading material.
I think electronic readers would start making sense if a $15 book was now $3 or $4, but they aren't. Publishers are trying to keep the prices only slightly lower than the print editions even though they are basically one-time-use.
Consider a DVD, you can buy it for $15 or rent it for $2.50. (I know that technically you can read your electronic book again, but in actual use you probably won't read an electronic book over and over again.) The use of an electronic book is more in line with renting a DVD. However, to buy a book for the Kindle, you'll pay $10 while a hardback will typically cost $15 to $17. Paperbacks will usually run a bit less and if you buy the book used it can be substantially less. You read the book and then eventually delete them if you run out of space on the Kindle–or you keep it around indefinitely. With the physical book, you can resell it, if you purchased it used, you'll probably only be out the shipping costs to purchase it–maybe a bit more. You can share your ebook with other people who you trust to use your $300 digital reading device, but that is about it–oh and you can't read something else while they read it.
When it comes to magazines and newspapers the economics are a bit different. A newspaper typically has very little value a few days after it is published (unless you keep birds and need something to line the cage). So there is pretty much no resell value in a newspaper and it is unlikely that you will loan the paper to someone else. The Wall Street Journal on the Kindle costs $10 per month. At $120 per year it is about the same cost as the physical edition along with the online access option.
I feel like I'm getting more for my money with paper but I actually read more stories when I get the Kindle edition.
That is an interesting observation. Based on the numbers above, he is getting more for his money when buying a book. It would probably be a better test to see how he feels in 18 months after the novelty of the Kindle wears off a bit. One of the nice things about something like the Kindle or Sony Reader is that they are limited use devices. When you try to read on your computer it is easy to jump around opening other browser windows, looking things up, and clicking on interesting advertisements or links. The electronic readers are much more focused on reading, so it tends to be easier to read longer stretches at a time with them than on the computer.
An interesting side note is what Steve Jobs said about reading books on the iPhone. He basically said, "people don't read any more". Interestingly enough people do still buy books. So even if reading is going down book purchases are still going well. But if people are buying books they aren't reading, they are probably going to be more interested in something that will sit on their bookshelf than a file that other people can't see.
Do you use a digital reader of some type? What do you think it would take for digital books to really take off?