Recently at Productivity 501, we have taken a look at several different tools intended for file sharing. All of these products shared the attribute of being available for both business and personal use, although some were better suited to one than the other.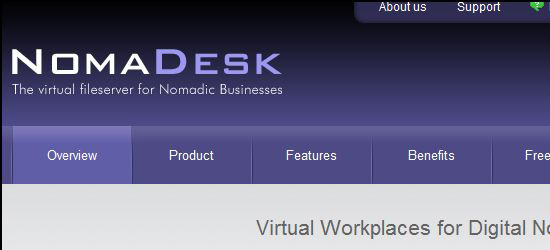 One additional file sharing tool that came to our attention is NomaDesk, the flagship product of the Belgian start-up Aventiv. Thought most file sharing software is developed with the average businessperson's needs in mind, NomaDesk was created specifically for someone who is constantly "on the run." Those that work from many different locations and from laptop computers know precisely what the challenges are for mobile businesspeople.
The Laptop User
While laptop computers are a wonderful invention, their small size and portable nature means that they are more likely to be damaged by being dropped or stolen. Consider this scenario from the developers at NomaDesk.
Ted, an experienced salesperson for a company has a daunting problem. He is scheduled to give a presentation and has the information saved on his trusty laptop. However, though an unfortunate series of events, Ted remembers, with horror written all over his face, that he has left the laptop somewhere else! Ted's problem has a simple solution. Yes, you guessed it: NomaDesk.
For those that worry constantly about losing their data, NomaDesk is a wonderfully simple alternative to backing up all files on disks or other forms of storage devices. Instead of having a multitude of CD's cluttering up space, NomaDesk creates a virutal file server on the user's own computer, which allows the user to securely store files for sharing with select, authorized users. The Virtual Fileserver Network that NomaDesk uses allows clients to access files without an active network connection, while still keeping data secure from outside attack.
Integration
NomaDesk has made it easy for the user to set up contacts to share information with. The program draws information from Microsoft Outlook, Outlook Express and Google email.
Security
NomaDesk also includes a feature that helps ease clients' fears about losing data to a thief if a NomeDesk enabled computer is stolen. If this particular conputer is reported to the company as stolen, all of the data will immediately be deleted to ensure data security.
Personal Fileserver

The NomaDesk product for single users is called the Personal Fileserver. This product allows the user to synchronize files on up to 5 different PC's. As a file is changed on one computer, the information is relayed to all of the other computers, and the documents should be synced on all authorized computers. With this product, the user cannot invite team members to view documents (it does not support collaboration).
Public Fileserver
Using this product, authorized collaborators can read, but not write, the documents that are posted on your particular fileserver. This product does facilitate team collaboration with file sharing, and it allows the administrator to invite an unlimited number of collaborators to view shared data. Also, only the administrator can make changes to files. Other collaborators are not given this ability.
Team Fileserver
The Team Fileserver offers the complete, 2 way collaborative abilities that many businesspeople find helpful. The administrator has full control over what goes on with file sharing, but he or she can edit the access control to give  certain people a higher level of clearance.
Functions
NomaDesk allows the user to sync and locate files from a remote location even when the computer where the file originated is not online. For those that prefer a visual illustration of how NomaDesk works, this video tells about the different functions and attributes of NomaDesk.

System Requirements
The system requirements for NomaDesk are 512MB of RAM, Windows XP with service pack 2 or Vista, a processor at or above the Pentium 4 level and 1.5 GB of free hard drive space. For Mac users, the developers at NomaDesk are working on a version for Mac OS, but it isn't out for use just yet.
Conclusion
NomaDesk offers a solid alternative to the traditional means of backing up and sharing personal and business-related data in a secure and hassle-free manner.