We talk a lot here about how to increase your productivity, get more done, and be more effective. But what if that isn't your goal?  What if you really just want to completely obliterate the productivity of your co-worker? In this unusual post, we are going to look at nine ways to wreak havoc on someone's ability to get work done.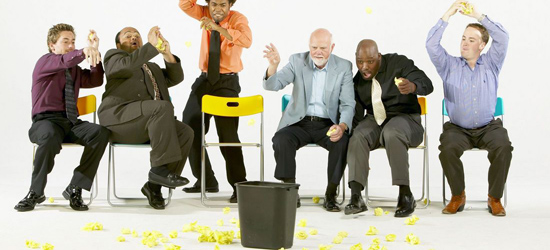 Of course, none of the readers of this blog are that evil. Anyway, for the vast majority of our readers, I figured this list would provide some useful thoughts on how to spot people who are wasting your time.  And who knows. It might be useful someday if you decide to let your Dark Side take over for a while.
Here are the nine tips (if you can call them that).  If you decide to use them, you do so at your own risk.  I take no responsibility for the results.
Use email for things that should be done in person. Things that require a quick back-and-forth conversation are prefect for this tactic. You have to write something that requires your target's response where they will need to email several other people for clarification.  This turns the simple interruption of an email into 5 or 6 interruptions as they try to acquire more information in order to give you a reply.  If you do it well, it can have a network effect.  You send a single email which forces them to send 3 or 4 emails for more information to other people, who in turn have to ask for more information… You get the idea.
Use face-to-face and phone conversations for things that should be done over email. If you can visit your co-worker's office and tell them something face-to-face that doesn't require any type of response, it gives you an excuse to interrupt them from their work.  Next time you start to fire off an email with an FYI message, just walk into their office and tell them in person.  It may only take you 1 or 2 minutes, but the distraction can easily take them 10 minutes or longer to recover from the interruption.
Always sit down in their office no matter how short of a conversation you need to have. If they don't have a chair, bring one with you and leave it in their office for next time. Make sure you don't get right to the point.  If possible, find something in their office and comment on it. For example, ask them about an award or certificate on their wall.  They will feel obligated to make small talk.  If you are really good, you can have a 30-minute conversation without covering anything work-related.  If you are really good, you can even leave without having discussed the reason for your visit. Come back in 10 minutes and interrupt them again!
Space out visits by 10 minutes. If you have 5 things to discuss with your target, don't use them up all at once.  Stop by their office multiple times with 10-minute intervals between each visit.  Most people take about 10 minutes to get their focus back, so you can easily ruin an entire hour of the work day using this technique.  You want to interrupt them right after they get their focus back.  If you hear them take a phone call, wait another 10 minutes–someone else is giving you a hand interrupting them.
Send multiple email messages. Make sure you don't gather your thoughts about a topic before emailing.  With a little skill, a two-paragraph email can easily be spread over 5 or 6 incomplete messages. Make sure you leave out important details until the very last message.
Don't ask the right person. When you need something, go ask your target.  It doesn't matter if they know anything about what you need.  Always ask them first.  Most of the time you'll just interrupt them and they will tell you to check with someone else.  If you are really good, you can actually get them to help you with things that they shouldn't be working on and know nothing about.  Extra points if you can pass the job on to them in its entirety.
Never interrupt them right after lunch. Most people experience a slump in productivity right after getting back from lunch.  Give them an hour to get back in the swing of things before launching your next attack. If they aren't being productive, there is no reason for you to waste your time interrupting them.
Send emails that require them to hunt down information and people. For example, sending a message that says, "I think Sandy needs a report on a project for one of your clients  soon."  See how vague it is?  They don't know which client, which project and aren't even sure if Sandy is really the one who needs the information.  If they are good, they will ignore the request until Sandy comes looking for it, but if you are lucky, this will send them on a goose chase trying to track down Sandy and find out what is needed. Also, leave out information like telephone numbers, last names, or company names, etc. The true experts at this tactic know how to make it look as if the information is complete while leaving off something very vital (like an area code).
Spread gossip. Whenever possible, try to go to their office and spread some gossip.  It doesn't need to be true.  Feel free to just make things up.  Statements like: "I think I overheard someone saying that management is going to take out the water cooler.  What do you think of that?"  If you can get them involved in the conversation, you are doing well.  Sometimes by acting like you are really upset about it, you'll be able to draw them in because they don't want to be impolite and tell you that you are being an idiot.
Originally published February 1, 2007.