Email has evolved so much over the past few years that the services that were once predominant are no longer used as much, and some may be considered even obsolete. In the fast-paced world of technology, one of the things that has seemingly gone by the wayside is desktop email. With Gmail and Hotmail garnering many clients, most people choose to use an web-based email client, instead. However, one surprisingly pleasant desktop email client has been recently updated with several unique features.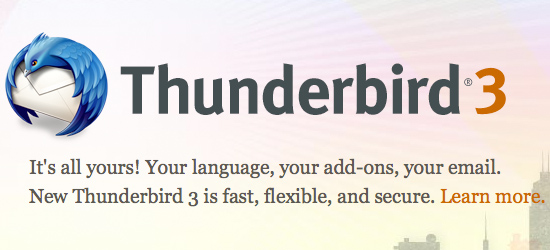 Mozilla Thunderbird is an open source desktop email client (for Windows, Mac and Linux) that is based on the same basic principles as Firefox. While Firefox is the browser I prefer to use, I had never thought of using Thunderbird until recently. Upon trying Thunderbird, I found it to be vastly more efficient than using my web-based email on a daily basis.
According to Mozilla Messaging CEO David Ascher, ""If you look at the number of seconds saved over the population of Thunderbird users, it tends to be several lifetimes per year." It's nice to know that Thunderbird was developed with efficiency in mind. That being said, let's take a look at the things that make Thunderbird 3 more efficient than the past version.
Setup
One thing that I really appreciated about the setup process for the product was that Thunderbird automatically detected the server settings from the other email account that I entered. I didn't have to enter whether the account was POP3 or IMAP or any other sort of information other than the email address I wished to use and my name and password, making the setup process very streamlined.
Tabs
Tabs in Thunderbird work much like those in Firefox, except the user opens messages in the tabs. I found this particularly beneficial when trying to gather information from an assortment of similar emails. Being able to keep them all open and reference each message quickly saved me time and frustration.
Search
As with most clients, Thunderbird has a message search utility. However, the neat thing about this utility is that it allows the user to filter the messages and the service groups them under relevant categories. The search results automatically open in an appropriately labeled tab. One other neat thing is that for Windows 7, Vista and Macs with the Spotlight feature, the search results are integrated into the desktop search function, according to CNET.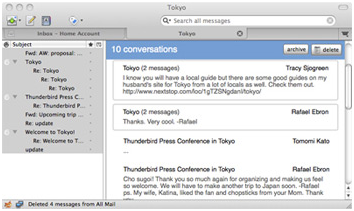 Integration with OSX Address Book
For those that have a lot of email addresses stored in Address Book, this feature could save a lot of time.
Calendar Integration
According to several sources, add-ons are much easier to get with the new version of Thunderbird because of its built in, Firefox search engine. A couple of these add-ons allow integration with both the Google and Yahoo calendar functions. For those that already have a lot of information built into another account, this could also be a nice time-saving feature.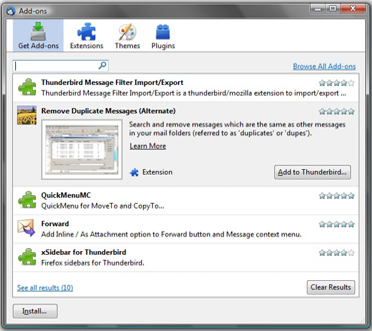 Smart Folders
Last but not least, Smart Folders make keeping track of multiple email accounts much simpler. The software combines all incoming messages into a single inbox, which means less time spent checking multiple accounts.