We bought a house and I've been working on getting my office moved.  Here are a few things I've learned in the process: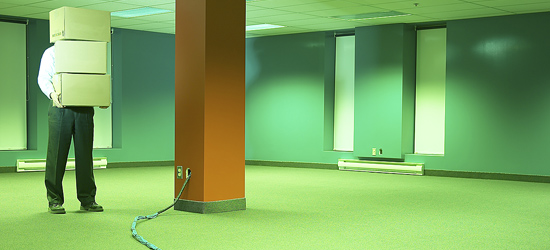 Set up new internet before switching off the old. If you want to minimize downtime, don't turn off your old office's internet until you have everything set up and running in your new space.
Vacuum, vacuum. If you have the floors cleaned before you move in, make sure you give yourself time to vacuum two or three times before you start moving your stuff in.
Pack by what you need. Make sure the things you are going to need access to are easy to find.  I put all the stuff I needed for the next week or so in my laptop bag where I knew I could find it.
Don't set everything up permanently. Set everything up, but in a temporary way.  Once you've used things for a week, you may find that you want your desk on the other side of the room to avoid a draft or some odd lighting.
Change your address. Don't forget to get the forms filled out a few days in advance. (You can do this online from the Post Office website.)
Check the humidity. Even if it isn't hot, high humidity isn't good for your electronic equipment or books.  If it is too high, get a dehumidifier.
Examine the outlets. If you see any evidence of cracking or black marks, replace them.
Test for noise. Have someone walk around on the floor above your office and see how loud it is.  What you find may influence where you put your desk or may even prompt you to add some insulation before moving in.
Anticipate problems. This is especially important if you move into a place that has been vacant for awhile.  For example, you probably shouldn't set up your desk and computer directly under the kitchen sink if the plumbing looks old and hasn't been in use for awhile.
Test shipping. If you get a lot of time sensitive UPS or FedEx deliveries, it may be worth ordering something just to make sure the drivers know how to find your address. (Particularly important if you live in a rural area.)
Declutter. Moving is a great time to get rid of things you don't need.  In my case, I found that I was saving a lot of old boxes and electronics that I will probably never use again.
Emergency numbers. Make sure you know how to get a hold of emergency services at your new location.
Water detector. In addition to smoke detectors, you might consider getting a water alarm if your office area is below the grade or in an older house.  These devices hook to the wall with a sensor that runs down to the floor.  If they get wet, the alarm goes off.