On a recent trip to Philadelphia, I was struck by how much paperless functionality is available in modern cell phones. The two things that appear to be driving this change are:
Cameras built into every phone
Constant network connectivity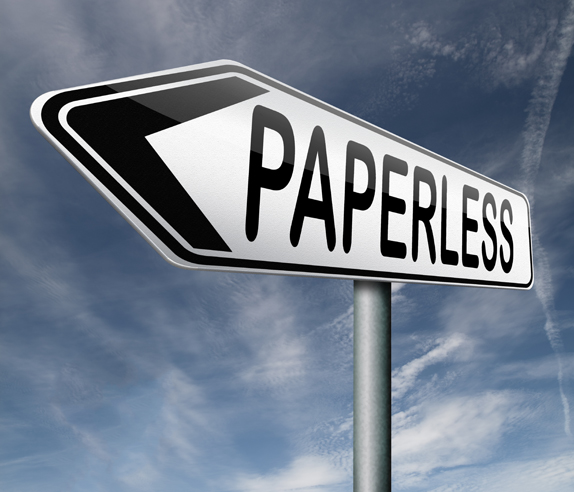 Let me walk you through a small portion of my recent trip to give you some examples of what I'm talking about.
With a 6 am flight, we arrived the night before at a hotel near the airport. I had all of my reservation information in an email Gmail on my Android Nexus S phone so I didn't have to print it out ahead of time. Before going to bed, I confirmed the flight time on my phone, also using Gmail's search capability.
In the morning, we used the phone to look up the weather report for our current location and decided it would be better to leave the car in covered parking because of a high chance of hail while we were gone. After driving the few miles to the airport, I took note of the row and level where we parked and entered it into Evernote. This time I just typed it in, but in the past I've just used the camera to take a picture of the sign where we parked.
After we checked in at the airline, I pulled out the receipt from the hotel and added it to my expenses using Expensify. After I photographed the receipt, it was uploaded to my account, scanned and automatically associated with the charge on my credit card along with a few notes about the purpose of the expense and the category I want to put it in.
Once on the plane, I pulled out my Kindle to read a book I had recently purchased. The book was on my phone as well, so I could have just turned it on in airplane mode. However, the Kindle battery lasts so much longer and I wanted to make sure I had enough power on my phone to make it through the day.
When we landed in Philadelphia, I used the phone to see how far we were from our hotel and to give the address to the cab driver.
I won't go through the whole week, but even before we made it to our hotel, I had used the phone to eliminate about half a dozen pieces of paper.
One of the more interesting moments was when I left my phone in a cab. I was struck by the fact that while it was an inconvenience, all my data was still available. I could still get to all of my notes and email from my computer and I could even wipe my phone remotely to keep my data safe.
It wasn't like that a few years ago. If you wrote information on a piece of paper that you misplaced, you lost all of that information. Even if you stored it in your phone, losing your phone meant losing all of the information on it. I quickly went through what it would take to get back up and running and estimated that it would take me about an hour to buy a new phone and get it set back up where I could be productive again with all of my data–and most of that time would be spent locating a store and going through the purchase process. Fortunately, a quick call to my phone got an answer from a very honest cab driver who came back by to return it.
It is kind of funny to think about how many promises for going paperless with expensive scanners and other equipment never really panned out. However, when we finally received sufficiently powerful cell phones, it dramatically reduced the need for paper, and my guess is that this is just the beginning.