Not all organization effort is equal. Just because you organize something, doesn't mean it is going to make you any more productive. If you pay attention to the cost benefit of organization, you can keep from wasting time and focus on efforts that are actually beneficial.
Lets talk about silverware as an example. Assume that after you run your silverware through the dishwasher you randomly place each piece somewhere in your house. You put some in the drawers in the bathrooms, others on top of books on the bookshelf, some above the fireplace, some in the refrigerator, etc. In other words your silverware storage is totally disorganized. Is that efficient? No of course not.  Whenever you need a fork, you have no idea where to look and you'll spend a great deal of time looking for it only to eventually find it in a potted plant–where it is dirty and you'll have to wash it before using it.
Now assume you do what most people do and you have a little tray in a drawer where you place each item together with like items in their own slot. Is this efficient?  Well, on the retrieval side of things is sure is. You can find a fork very quickly because you know exactly where to look, but you do have a certain amount of time invested in placing each item in its slot.
What if instead of having an organized silverware drawer, we decided to simply dump all the silverware in the drawer–no tray? Sure it would look like a mess, but would it really be less efficient?  We'd save a lot of time putting the silverware in the drawer, but would we lose that much when it came time to getting the silverware back out?  If you have a drawer full of spoons, knives and forks, how much time would you actually waste if they were all there in just a random order?
The answer is of course "it depends."  If you are single and generally need one utensil at a time, this might be an optimal setup.  It also might work if you have a simple silverware collection with only 3 or 4 different types of items–no salad forks, butter knives, soup spoons, pickle forks, etc.  On the other hand, if you routinely have to set the table for 7 people, there may be an advantage to being able to grab all of your forks in one grasp because the time required to go through and pick out every single fork would be greater than the time required to put them in the organized slot to start with.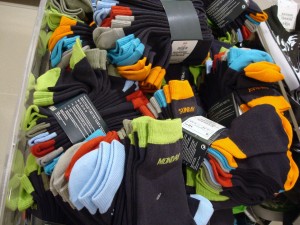 The same thing is true of the way we organize socks. If your sock inventory consists of 2 or 3 different types, simply dumping them all in the drawer may be more efficient than trying to match up each pair. (And you probably know from experience that no matter how hard you try, you'll never match all the socks that come out of the dryer–something will be missing.) If each pair of socks you own is unique, you'll want to match them before putting them away because the time required to find a match after they are all in the drawer will be greater than when you are doing the laundry.
My point is that some types of "messes" are actually more efficient than rigid organization. It is possible to still have a nice looking living or office area while optimizing your organization for efficiency. Organization needs to be designed around how we actually  use stuff otherwise it can become a time waster just like being disorganized.