This is a very large list of links to articles we found interesting here at Productivity501 on no topic in particular. If you like these you might want to add Productivity501 as a friend on StumbleUpon, Digg, and/or Twitter. Also consider subscribing to our RSS feed.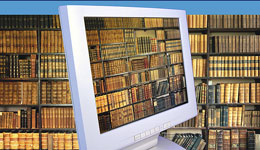 Matt Goes Digital – Matthew Cornell
Matt Cornell shares some tips on moving away from a paper based system. Particularly useful if you use a Mac and OS X.
Organizing Your Desk and Paper-Ariane Benefit
Some helpful advice for keeping you desk from becoming one massive pile of clutter. Also gives tips for using items you already have around the house to help you become more organized.
Research That Reveals New Paths to Productivity-Penelope Trunk
This article speaks of the newest research related to productivity, such as days of the week that we tend to be productive and other factors that affect our efficiency. A few tips from the article are to make exercise options readily available and to stop obsessing over each and every decision.
10 Useful Steps for Optimizing Ubiquitous Capture-Getting Things Done
Advocates getting things done through using simple tools, using tools that are fun, and also finding tools that are inexpensive. This author also recommends creating your own shorthand and date-stamping all documents.
Search Commands: Find What You Are Looking For in Word 2007-GTD Wannabe
This page offers some helpful advice for anyone who is slightly stumped to where some commands are located in Word 2007. The article tells about a new program that is specially designed to help users find things that are switched around from the locations on previous versions of Word.
Linked In and Productivity-Productivity in Context
This article tells how using LinkedIn can improve your productivity while searching for a job. This resource also highlights just how critical a good list of references can be in finding a new job.
The Morning Tea Break: Making Better People Out of Nurses-LifeDev
Some interesting insight as to how a short break during shifts can help nurses be more productive. This study also shows an improvement in morale as a result of these breaks.
10 Steps in Overcoming Clutter-Life Lists
This article offers some helpful advice for reducing clutter in your home and office and, as a result, reducing stress in the process. Some suggestions include minimizing unnecessary belongings, carefully considering purchases and creating a recycling center.
My Top Three Habits for an Organized Office-My Bad Habits
This article gives three highly useful tips for keeping an organized office. One of these tips is to throw anything that might become just more clutter, away.
Speeding Your Email-WOWNDADI
Tells how you can eliminate any unnecessary messages that are cluttering up your inbox. The author recommends deleting irrelevant messages right away and separating actionable emails from unactionable ones.
I'm Still Here I Promise-Sam I Am
This article offers some helpful advice on how to keep your stress level down when you seem to be working through a mountain of different tasks. One idea that the author mentions is to keep your immediate surroundings orderly.
A Picture is Worth a Thousand Words With Evernote-Stress-Free Productivity
This site offers tips for stress-free productivity. In this particular article, the author explains how useful Evernote Beta can be in a business setting.
7 Ways to Increase Productivity…By Moving Stuff-Simple Productivity Blog
Helpful tips on how to help simplify your life and increase productivity by simply moving things to different stations within your home or office. This helps organize things in an effective way.
5 Minute Calendar-Success Begins Today
This site offers some practical and useful ideas for creating a calendar that you can carry with you on the run. This guide takes you through the steps to create a convenient 5 Minute Calendar.
What Causes Clutter in Your Life?-Unclutterer
This page talks about the different things in your life that may result in an increase of clutter in your office or home. Some of these causes include physical exhaustion, emotional avoidance and lack of time.
Got Supplements?-World Fitness Network
Offers some good advice on which dietary supplements are beneficial to take, and which supplements you might need to take, if any. The author also discusses the elements needed in a healthy diet.
Turn Your Computer into a Fax Machine-Apace of Change
This article explains how to use your PC as a means to fax documents to businesses that still use that medium of communication. This author guides you through the steps to send a PDF or other file to a fax machine.
Productivity Boosters-Organized Thoughts
Gives a few simple and easy steps to increasing your productivity. Some of these steps are getting an adequate amount of sleep, drinking plenty of water and eating healthily.
Engage: Get Moving-David Zinger
Explains how exercise is so beneficial to us mentally. He recommends that a person get up and moving every hour or 90 minutes.
5 Ways to Market Your Business for Little or No Money-Drew McClellan
This article outlines several different ways to market your business without hurting your bank account. The author gives a few tips, such as hanging out at places where you can interact with potential customers.
Wannabe Clutter-Ellen Hankes
Talks about a phenomenon that most of us, if not all have experience with: wannabe clutter. This clutter is a result of projects that we have lost interest in, and the tools for that project now are nothing more than items that collect dust.
How Do You Introduce Yourself?-Escape from Cubicle Nation
A guide on how to introduce yourself in a business setting. One of the topics discussed is how to meet potential angel investors that might be interested in supporting your business venture.
How to Deal With Rising Food Prices-Fiscal Musings
This page offers some helpful advice on how to save, even with food prices rising to new heights. Making changes in the quantity and type of the food you buy could have a positive impact on your grocery bill.
Make A Productive Visit to Your Local Library-Productivity 101
Tells how enjoyable and productive it can be to spend an afternoon at your local library. The author discusses the benefits of a library trip being refreshing, inexpensive and informative.
10 Steps to More Productive Feed Reading-GearFire
This page offers some tips to make it easier for a person to keep items in a feed reader organized and clutter-free. It also discusses the importance of using a good feed reader.
The Manager's Most Useful Tool-Andrew Rondeau
This article offers some insight as to what a manager's priorities are or can be. It examines the way that managers interact with the employees under them, and the results of that interaction.
Eight Tips for Making Yourself Happier In the Next Hour-The Happiness Project
Provides some insight as to how a person can boost his or her energy level, reduce stress and get nagging tasks out of the way. This article would be a helpful resource for anyone that is struggling with a lengthy to-do list.
Black Light: Dealing With Criticism-InMyHeels.com
This article is a good resource for anyone who is dealing with heavy criticism in the workplace. It explains the difference between positive and negative criticism and how to discern the two.
Organize Your Life Online With SnapPages-jeetblog
Tells how SnapPages can have a big impact on a person's life through the tools it provides for organization. SnapPages allows people to keep track of their photos and calendars.
How to Keep Your Idea File Alive and Useful-Joel Falconer
This article would be a helpful resource for anyone that is constantly coming up with good ideas and then forgetting them. The offer recommends using an "idea file" to store these thoughts before they are lost.
Next Actions 101-Rephrase Dormant Tasks to Spur Action-Andrew Flusche
This article would be a helpful resource for anyone that has started a big project and feels "stuck" in the middle of it. The author offers some advice for re-invigorating these dormant projects.
Change Your Mindset to Improve Your Productivity-Donald Latumahina
Offers some tips as to how an improved mindset can benefit someone attempting to use productivity techniques. The author explains how strongly our mindset affects our level of productivity.
Give Me 5 Minutes and I'll Make You a Faster Reader-Miguel Pineiro
This article provides some resources that would be helpful to anyone that needs a way to read a large amount of material consistently in a very short amount of time.The author also mentions that this method would be very useful for students.
10 Financial Tips for New Grads-My Dollar Plan
This article provides some tips for new graduates on how to conserve money and invest wisely. The author recommends getting health insurance immediately, and starting a 401K account for retirement.
Saving Time With Index Cards and a Timer-Nate's Productivity Tips
This article explains how using note cards for your to-do list can improve your efficiency and productivity. The author also mentions using a stopwatch to improve efficiency.
Ideal Client Mix-Nick Rice
Tells how essential effective marketing is to a small business. The author discusses the effects that a good marketing strategy can have on a small business's performance.
The Farmer's Market in Los Angeles Can Make You More Productive-Organizing LA Blog
This article speaks a bit about how much time malls cause a person to waste in just one day. Because malls generally attempt to cause customers to stay in the building for as long as possible, they cause customers to lose valuable minutes.
Excel Keyboard Shortcuts-Practical Productivity
This article offers some tips for completing documents in Excel quickly. This can be accomplished by simply learning the shortcuts listed in the article.
Simplicity, Complexity and Productivity-Productive Flourishing
Explains why spending time developing and implementing your own productivity system can ultimately have time-saving results. The author mentions that, though the implementation of this system may seem to be a waste of time, it will make a person's life much simpler in the long run.
How to Get Things Done Using the "Prioritizer"-Steve Bannister
Would be a good guide for anyone that is looking for an efficient way to prioritize their tasks. This author provides some resources that will help you reach your goals.
How to Overcome the #1 Fear: Public Speaking-David B. Bohl
This article offers some tips for overcoming a fear of public speaking. Some of the recommendations include lots of practice, selecting a topic that you would be able to speak about well, and to simply be yourself.
10 More Work At Home Ideas You Can Do In Your Fuzzy Bunny Slippers-Sparkplugging.com
This article clarifies and debunks the myth that those who work at home are not as motivated or as hard working as any other employee. The author states that, often, those who work from home work more hours than other employees.
How to Win Hours Back Every Day: A Presentation and Resource Guide-Technotheory.com
This article provides resources for those wanting to save time using computer software. The author lists many different links to information about these programs that will help you make the most of the time that you have.
Quiet Moments That Boost Productivity-The Daily Saint.com
This article speaks about the importance of setting aside quiet time that will boost your productivity. The author provides some tips for making the most of the time that you have set aside.
How To Make Your Own Laundry Detergent and Save Big Money-The Simple Dollar
Some neat ideas about saving money by making your own laundry detergent. The cost of ingredients allows the cost spent per load of laundry to be greatly reduced from that of detergents bought from a store.
Can You Have Too Much Insurance?-The Wisdom Journal
This article discusses the importance of having adequate insurance coverage. Statistics show that a person is often at much more of a risk for becoming disabled than that person may realize.
The Difference Between Phone and Email Interviews-thursdaybram.com
Discusses the benefits of interviews done through email rather than in person or over the phone. The author lists advantages and disadvantages of each of these types of interviews by comparing and contrasting them.
No More Stress-Varsity Blah
This article offers some helpful advice for those that want to find practical ways to deal with stressful situations. The author recommends meditation, relaxation and expression as the keys to ridding your life of stress.