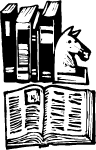 Take a few minutes to reflect on what you've read over the past year. Now assume 2007 will consist of a similar "intellectual diet". Will you feel like you've adequately invested in yourself at the end of 2007?
If you feel that you'll be pleased with your personal growth in 2007 based on this exercise then you are in good shape. You already place an adequate emphasis on your personal development. However, for me, this shows how much I fall short of my ideal personal investment.
Our health is determined by what we eat on a daily basis. It doesn't really matter what we do as part of a 1 week diet. Our intellectual health is determined by what we do every day on a regular basis.
Here are a few suggestions for increasing the quality of your intellectual diet in 2007:
Regular Time for Reading – Set aside a regular time every day for reading. Focus on consistency instead of quantity. It is better to set aside 10 minutes each day and stick with the schedule than trying to set aside two hours, but being inconsistent.
Subscribe to a Magazine or Journal – Magazines and journals come at regular intervals. Even if you only read a few articles out of each one, this can get you on a regular schedule for reading. Choose your journal or magazine carefully because there is a wide range of quality in what is published.
Books on Tape – Take advantage of the time you spend in the care by listening to books on tapes or Podcasts.
Take a Class – With many universities offering online classes it is easier than ever to sign up for a class from a university or college. Be sure not to overdo it. Taking a single class each year or each semester can help keep you current and keep your mind tuned for learning.
Minimize Television – Most of what shows on television will have very little or no positive impact on your personal development.
Seek Out Interesting People – Spend time with people who challenge you.
Visit the Library – An occasional hour spent browsing the library will help open your eyes to areas you may be interested in learning more about.