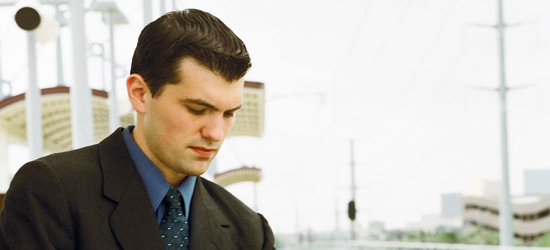 In the perfect world, our opportunities would be directly tied to our skills.  Luck wouldn't play any part in our successes and our looks would most certainly not be a factor.  We don't live in a perfect world and no matter what we do, there isn't a single thing we can do about it.  In the real world, luck plays a big part in success and good looking people are picked for promotion over their more skilled peers.  You can fight the system, but it won't make a difference.  What people think of you is at least partially dependent on how you look.
In some ways this isn't so unfair.  If you are looking to hire someone, would you be more likely to hire the person who hasn't cut his hair in 6 months, has holes in his shoes, and hasn't washed his face in several weeks or would you tend to want to hire the person who looks like he keeps himself well groomed and wears neatly pressed clothes?  When you first meet someone, you start making guesses about their skills and ability to interact with people.  If they look like they don't care about the way they look, it seems reasonable to assume they may not care much about developing their mental skills.  Obviously, this is not always a correct assumption, but it is a method of profiling–reaching initial assumptions about people based on experience with similar people in the past.
By recognizing this, you can set yourself up for success by paying attention to how you look and dress.  It doesn't have to be obsessive and you don't have to go out and buy $1000 suits or designer clothes, but a little intentional effort can help make you stand out from your competition.
Here are several things to consider trying:
Polish Your Shoes – A little time spent polishing to remove scuff marks can go a long ways.  If you do it right, no one will even notice your shoes, but they may notice someone else's who are tattered or scratched up badly.
Style Check – Make sure that your overall style is consistent and appropriate.  A tight biking shirt doesn't look good with dress slacks.  Tennis shoes don't look good with a suit.  Your goal is to not stand out. You don't want to be remember as the person who dressed "funny".
Get a decent haircut – The cheap barber may not be the best place to go.  It may cost a little more, but the results should be well worth it.
Make sure your clothes are pressed – Wrinkled clothing makes it look like you don't care.  If you select your clothes carefully, you should be able to minimize the amount of ironing necessary.  Also, consider getting shirts pressed and starched.
Make sure your pockets don't bulge – If your pockets are full of stuff, you may need to lighten your load.  If you have to have more "storage" space consider wearing a sports jacket or carrying a bag.
Watch for worn clothes – Clothes do wear out eventually and it is easy not to notice when your collar is frayed or your slacks are starting to wear through the pockets.  However, it is very difficult for other people not to notice.
Put a Mirror by the Door – You don't have to get vain about it, but getting into the habit of looking yourself over before heading out the door can go a long ways toward avoiding any bad impressions.
Originally published on February 1, 2006.