Several years ago I did a post on my home office setup. Since my home office is constantly evolving it seemed like a good time to do an update. One thing that has changed from a few years ago is that where I used to spend short periods of time video conferencing, I now spend pretty much 8 to 9 hours a day on video conference with clients.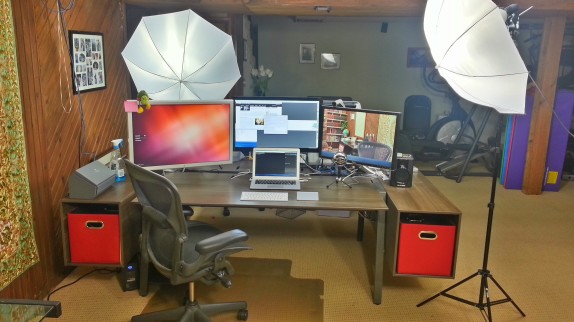 Previously, I had two glass top desks setup in an L shape with a single 30 inch monitor. I've moved these desks on either side of the room behind where I sit and have gone to double Bivi desk with three large monitors. This gives me a reasonable amount of work area and I can roll back to one of the two glass desks if I need to spread out some papers.
Computers and monitors
I have three computers that I use regularly. In the center is my MacBook Air hooked to a 27 inch display. Typically I keep the Air closed. However, if I'm doing a screen share, I'll open it up and make the Air's screen the secondary display. Then I share that display. This means notifications from IM show up on the 27 inch screen and the smaller screen gets shared.  The smaller screen is easier for other people to see because if I share the 27 inch monitor and someone doesn't have a large screen it gets scaled down on their end and is pretty much unreadable.
On the right side, I have a 24 inch monitor on an Ergotron MX screwed into the side support of the Bivi desk.  This is hooked to a small Windows 8 computer. This machine is used exclusively for video conferencing. It is on my office network, but goes out through a T1 line rather than my cable modems. This gives me the most consistent results and keeps my uploads or downloads from messing with the video quality.
On the left is my older 30 inch Cinema Display hooked into an Alienware computer running Linux. This monitor is also hooked to another Ergotron MX arm screwed into the left hand metal rail of the Bivi desk.
Input management
I use a program called Synergy that lets me share a single keyboard and mouse across all my computers. The MacBook Air on  my center monitor runs the server and the two computers on the side are clients. If I move the mouse off my screen on the right it reappears on the Windows machine on the right monitor. If I go to the left it switches the inputs to the left monitor.  Before I had this I lost most of my desk space to multiple keyboards and invariably ended up typing on the wrong keyboard or using the wrong monitor.
Synergy works well but every once in a while it seems to lag just a bit. Usually restarting the application on the server (the MacBook Air) fixes the problem.
Desk
My desk is a Bivi double desk from Turnstone. This desk lets me run wires where I need them while keeping them hidden and off the floor. Each desk has a trough that can be used as storage or for wiring. You cover it with wooden panels. The photo below gives you an idea of how much wiring is behind the scenes.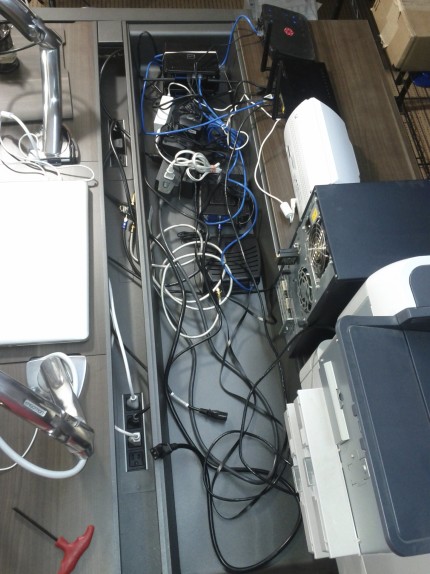 That picture is from back when my setup was fairly simple before I added a T1 and a dedicated computer for video conferencing. There are about twice as many wires in there now all hidden from view but easily accessible if I need it. My previous glass top desks just didn't have a good way to manage this amount of cabling and equipment. The only way to make it look organized was to carefully run each wire and then wrap them together to keep them out of view. This still didn't solve the problem of the actual equipment and any time I needed to work on something it meant taking it all apart. Accepting that the wires are always going to be chaotic (especially if I need to move anything around) and just finding a way to keep it hidden from sight works much better for me than the alternatives.
The Bivi desk has 16 outlets build into it. This may sound like a lot but usually have about 20 things plugged in at a time. I use two power strips in the storage/wiring area to handle the wall warts and this keeps some of the built in outlets free in case I need to plug in another device.
There are two things that would make the Bivi desk better. First while the setup lets you store lots of wires, it isn't always super easy to get them run where you want them because there aren't always holes and access panels where you need them. For example, I have a computer in the storage unit back behind the red box on the right hand side of the desk and there aren't any pre drilled holes for getting wires in there. This was fixed by getting a big drill bit and drilling through the laminate, but it would be better if there were already holes everywhere you could need it.
The second thing I would like to see is a better way to hook monitor stands into the desk. I ended up drilling a hole through the metal on the sides. It works, but it isn't as clean as a pre-drilled hole would be. Bivi now has some monitor stands that hook into the desk center trough. I haven't tried these, but they may solve the problem for new buyers.
Overall though I'd highly recommend the Bivi desks. They are well made, easy to put together and handle my wiring needs better than anything else I've seen. Turnstone is also a pleasure to work with–something I didn't ever think I'd say about a company that ships furniture. I asked them a question about the desks before I ordered and it only took them about 60 minutes to take some pictures of the area in question and email it to me in answer to my questions.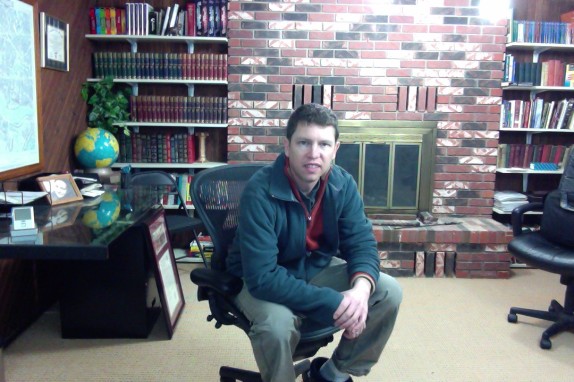 Chair
For my chair, I have have now switched to an Aeron. I bought a pair of them off Craigslist  and have been very pleased with them. I still have my previous leather chair and even after 12 years of use, it is still in pretty good shape. However the Aeron has a lot more flexibility and with the arms adjusted correctly I'm a lot more comfortable when sitting at the desk for long periods of time.
Lighting for a home office
Video conferencing is an attempt to get some of the benefits of face to face communication between people who can't be face to face. If you want it to work well you have to put effort into making sure that the quality is as high as possible. Most home offices aren't setup with enough light to make video conferencing work well. The best solution I've found is to get a small studio lighting set. This set cost about $130 and provides a lot of light using large CFL bulbs which don't get very hot or use too much electricity. You can get more light by using larger wattage CFL bulbs if you need it.
I switched out the reflective umbrellas with some translucent white ones. I have my lights set up to light through the umbrellas. This keeps the light evenly diffused and helps cut down on glare and shadows. You'll probably want to experiment a bit to see what works best so I wouldn't mount the lights in any permanent way until you know they are setup the way you want.
Not only do the lights give me a good color balanced image on the video conference, it also gives me a well lit work area. My office doesn't have any windows that let in direct sunlight so the brightness makes it easier to stay alert during a long workday–particularly through the afternoon slump when working in a darker area can really impede your performance.
One problem I ran into with these lights was that our robotic vacuum can knock them over. They are surprisingly light weight and the base is designed in a way that lets the vacuum get under it and flip it over. So watch out for that if you have an automatic vacuum, kids or pets in your office.
Make your desk your own
The big thing I hope people will take away from this post isn't how my specific desk is setup, but the idea that your desk you reflect your specific needs. Don't be afraid to try different things to discover what works best for you personally. Maybe some of the things I talk about here will be useful to you, but only if it serves your needs for the way you work. Have you found any tips or tricks for your own workstation setup that make you more productive? If so please share them in the comments.