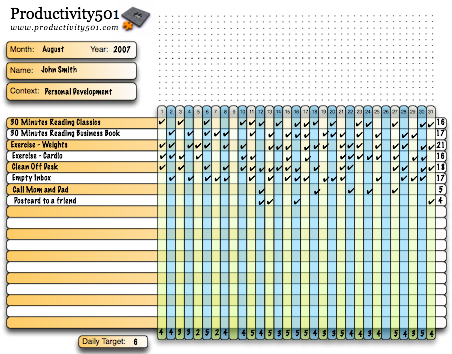 As I mentioned before, I'm testing some email based courses as an added feature here at Productivity501. I have a very limited test going on for the Procrastination Prevention course right now.
The second course I'm working on is for the Habit List. I know many people downloaded the Habit List, printed it out and promptly buried it under a pile of other papers. The course helps walk you through the different uses of the Habit List by sending you a very very short email for 10 days.
The idea of the course is to help motivate people to actually use the tool simply by keeping it on their mind for a week and a half. I'm going to do a slightly larger test for this course. You can signup with the form at the bottom of this post. (It uses Javascript, so you may not see it from a feed reader.) The form will only be available until I get enough people signed up for the test period. The last course test filled up in just a few hours, so if you want in sign up now.
Once you submit the form, you will be sent an email asking you to confirm. This is to keep people from getting signed up who really aren't interested. Once you confirm, you'll get the first email along with the Habit List PDF as an attachment.
Edit: We quickly ended up with well over 100 people signed up, so I've shut off the beta sign up until we can run the first group through the test and correct any problems we find. We should have everything ready to go live in January, so watch for an announcement.