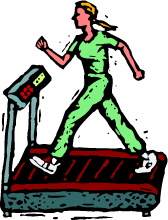 My wife and I have been planning on joining the local gym for several months, but we've been on the road so much that it hasn't been practical.  Now that our travel schedule is slowing down we went ahead and filled out all the paperwork and signed up last week.
When we turned everything in we asked about the schedule and what was the busiest times of day.  The receptionist told us, "oh January is really busy with New Years resolutioners, but they will all be gone by February."
One of the biggest mistakes people make with resolutions is shooting too high.  Some people think, "if I shoot for 100 maybe I'll hit 51 which is better than if I shoot for 50."  In reality it doesn't work that way.  If you shoot for 100 with no expectation of continually hitting the mark, you are more likely to give up than if you shoot for 50 and are able to meet your goal regularly.
If you are busy and aren't in the habit of exercising, setting a goal of exercising every day is probably going to be discouraging.  Start with something more attainable.  Like walking 2 miles each week, or doing 10 pushups each morning, or going to the gym at least twice a week.
The value of setting a goal that you can achieve is much greater than trying to stretch  yourself at the same time  you are developing a habit.  The danger of giving up is much greater if you don't start with something you know you can achieve.
I don't think we should do away with the whole idea of resolutions, but I do think setting smaller year long goals can lead to bigger gains.