Are you having a difficult time coming up with a gift for that highly productive person on your list? Here are some suggestions: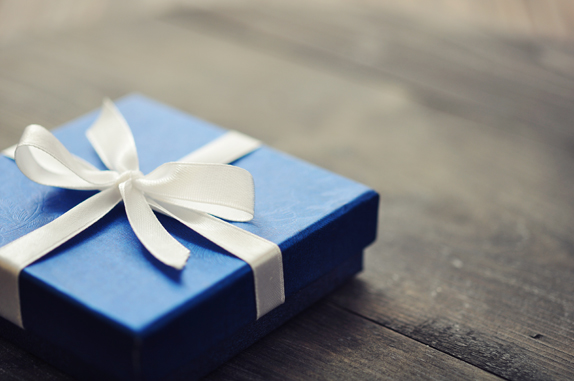 Extra Power Adapters
Taking your power adapter out of the bag, crawling around under the desk to plug it in, then reversing the process at the end of the day just isn't fun or efficient. You can eliminate those problems from someone's life by getting them an extra laptop power adapter so they can leave one at their desk and one at home or in their computer bag.
Related gift ideas include an extra wall adapter or car adapter for cell phones, an extra iPad charger, etc.
More Computer Memory
My mom has an older laptop and at one point, it was becoming so slow that it was almost unusable. For about $20, I bought her a memory upgrade that made her computer fast again. My favorite site for finding out what memory will fit is Crucial. A gift like this will require some research to see how much memory their computer currently has and the maximum it can hold. In many cases (especially with laptops), you may need to remove all the RAM and replace it in order to upgrade the capacity.
Stationery
Obviously this isn't for everyone, but some form of personalized cards or stationery can be a great gift for someone who enjoys sending correspondence the old fashioned way. I especially like the 3X5 personalized notecards from Levenger and Crane.
Dog Tags
For $2 or $3 each (try Go Tags), you can get engraved metal "dog" tags. That may sound like a silly gift, but if you get a shape that isn't a bone or something else dog specific, these make great ways to identify luggage, laptop bags, keys, cameras and all kinds of things that need some type of identification.
For luggage, a bright color can make it easier to identify the right bag when it is in a luggage carousel.
Ink Pen
Most of the productive people I know care about what they write with. The problem with buying a pen for someone is that you may get a pen they hate. However, if you find they like a particular type of disposable pen, getting a metal version that uses the same type of refill might make a wonderful gift. My current two favorite ink refills are the ones in the Pentel EnerGel and the Pilot G2. Be sure to pay attention to the color of ink and the width of the tip because those things matter for people who really care about what they write with.
Book Summaries
Productive people like to stay smart but are often short on time. A subscription to a business book summary service can be perfect. Most of these services condense one or two books each month into a 30 minute audio summary. Soundview and AudioTech are two examples. If you want to give someone a gift like this, make sure you do your homework and understand how they listen to audio content. If they have a long commute and an iPod or other MP3 player that integrates with their car stereo, then the MP3 downloadable versions may be a good gift. If they mainly listen to CDs in their vehicle, you might want to look into getting the physical CD version.
Bag/Briefcase
A good computer/work bag or case can make a wonderful gift. However, it can be a challenge to find the perfect bag. You'll need to consider the size of the recipient's laptop, what type of use the bag will get and the appropriate style. If your intended recipient travels a lot, you might want to consider a TSA certified bag that doesn't require you to take out the computer in the airport. I have personally been happy with my Brenthaven bag (an older version of this) for the past five years, but there are a number of different manufacturers to match nearly any style and needs.
Do you have any favorite productivity oriented Christmas gifts? Please share the in the comments.