When I was offered a Fujitsu ScanSnap iX100 to review I was skeptical. I'm pretty happy with my Evernote Edition ScanSnap and didn't really see the need for another scanner in my workflow. I have a pocket on my Broadmore computer bag that I use to hold any papers I accumulate on the road. If I needed something scanned before I got back to my desk, I'd just use my phone's camera to put it in Evernote. I didn't really see why I'd need or want to use another scanner that could only scan one side of a paper at and required feeding in a single sheet at a time.
When I opened the package the first thing I noticed was how small it was. I'm not sure what I was expecting, but the pictures I had seen made me think it was a much bigger device. I plugged it in to USB to let it charge and soon had it connected to my wireless network. I played with it and scanned in a few sheets of paper. It worked fine. Not that I was particularly impressed. I turned it off, put it in my computer bag and went back to using my Evernote ScanSnap.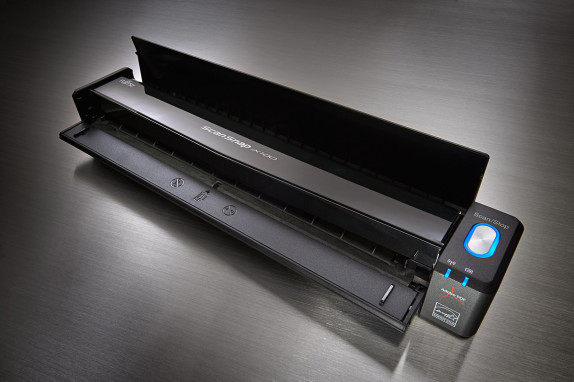 I basically forgot about the iX100 for a week or so. (Sorry Fujitsu!) Then one afternoon I was working on getting a deposit ready to mail to the bank. This involves a few steps, one of which is scanning in the complete deposit before sealing it up in the envelope. Right as I started my wife walked in to say she wanted to take the kids to their grandparent's farm for awhile and asked if I wanted to come with them. I hesitated because I knew if I went I wouldn't get the deposit done for another day. Then I remembered the ScanSnap iX100 in  my computer bag. "Sure, I'll go with you," I said and grabbed the checks, deposit slips, envelope, and a stamp and put them in my bag. At the farm, I finished signing the checks and filling out the deposit slip. I plugged the Fujitsu iX100 into my laptop with the USB cable, scanned all the checks, put them in the envelope, the envelope in the mailbox and then headed out to the barn to see how the the horse riding was going.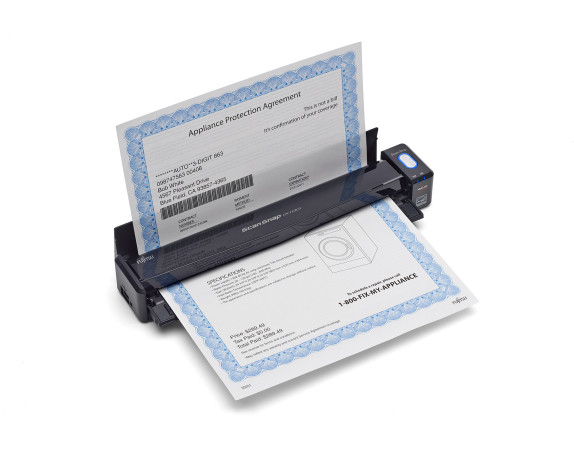 A few days later we were headed out on a business trip and I ran out of time to get a stack of bills paid. I grabbed them as we headed out the door and put them in my computer bag. Later at the hotel, I paid the bills online, scanned them in and threw them away. Over the next few months, I kept finding myself using this small scanner in all kinds of situations I never would have anticipated until it was in my bag.
I tend to be pretty selective about what I carry around in my computer bag with me. The iX100 makes the cut and is definitely worth the space it takes up–which isn't much.
I use the iX100 to scan directly to Evernote. It has options to scan to several other locations as well, but I haven't used them. The lack of a sheet feeder isn't as big of deal as I thought it would be thanks to the well thought out functionality of the Scan button. When you press it, the scanner will continue to accept pages until you hit the button again to tell it you are done with that document. This also makes it easy to handle double sided documents. When the sheet comes out, you just run it through facing the other way. You don't have to do anything special because it will just keeps scanning every piece of paper you give it into the current document until you tell it to stop.  Another advantage of this is that you can use the scanner without needing to touch the computer keyboard or mouse.
The wifi connection works well. It will remember a handful of connections so once it is setup you don't have to set it up again every time you come back to that network. However, I usually use the USB connection. If I'm at home on my network, I'll use the Evernote ScanSnap with the sheet feeder. If I'm somewhere else, chances are it is a new network and I'd have to plug in the USB cord to set it up anyway. It is just as easy to just plug it in and use it that way. Plus I don't have to wonder if it is charged or not.
There is a way for the iX100 to act as an access point that you can connect to with your computer or mobile device. You can scan to your smart phone or tablet as well as your computer and that is one situation where you'd probably want to let the iX100 create it's own wireless network.
The scanner comes with several pieces of software for managing receipts, scanning business cards, etc. My workflow sends everything to Evernote. While they aren't useful to me, the software looks like they could be pretty handy for people without an existing solution for those types of things.
All in all the iX100 is a very light, fast, tiny little scanner. If you have an existing workflow setup for scanning, you may not realize how useful it is until you discover what it is like to have a good scanner in your computer bag with you all the time.