I've heard a lot of people say that people on the East coast are less friendly than the people they meet in the Midwest.  One of my professors at Harvard who grew up in Kansas said that he didn't think Wal-Mart would do well in the Cambridge area because they wouldn't be able to find anyone who could cheerfully say "Welcome to Wal-Mart!" at the front door.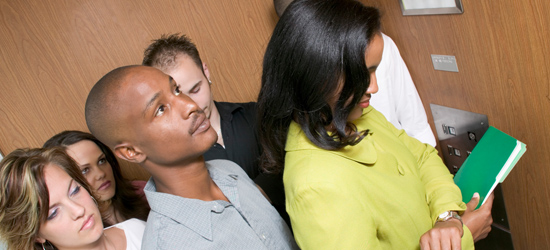 So what might account for the difference in friendliness between people in rural Kansas and Harvard Square?  I think there is a simple explanation, and it is the same reason people don't talk on elevators. When you get on the elevator with a bunch of people you don't know, it is rare for anyone to talk, even if they are people you might talk to if you were in a different physical location. If you want to see what I mean, get on a crowded elevator with a bunch of strangers and try to strike up a cheery conversation.  If there are just two of you, it will probably be no problem, but if the elevator is full, 9 times out of 10 it is going to be really awkward.
The difference is the amount of space you have.  On an elevator, it is very enclosed and very cramped.  Usually you are standing much closer to people than you would in just about any other situation. I think we don't talk in order to create more of a sense of space by ignoring each other.
I think this is what happens in places with high-density populations.  People create space by ignoring each other.  It isn't always about being rude. It is about preserving your personal space when you may not have much control over physical proximity.
If I spent an hour throwing rocks at every person I see from my deck or front porch, the chances of me hitting anyone are very slim. Everyone is just too far away.  In fact, the only time I think I'd have any chance of hitting someone is if I timed my little experiment to coincide with the football team's daily run that goes by our house.  However, if I tried the same experiment from the apartment where we lived in Cambridge, it would probably take me an average of 45 seconds to bean someone day or night and that includes the fact that I have very poor accuracy throwing rocks.  There are just a lot more people in a lot smaller space.
There is a guy here in town who seems to have lost the gene that makes you want to have some personal space between your face and the face of the person you are talking to. He stands way too close and subconsciously you'll take a step back. He will literally back you into a corner.  It is actually great fun to watch him talk to someone for the first time.
I do have a point that I'm trying to make here (in something of a round about way). If someone doesn't seem friendly or doesn't react the way you expect, look first to see if they are reacting to their environment or physical stimuli more than they are reacting to you, personally, or to your suggestion.  There are people who are just plain rude and mean, but often there are nice people who are simply putting up walls or reacting to something else that you may be able to change or control.
Oh, and if you decide to try the rock-throwing experiment at home, you are on your own. I take no responsibility for anything bad that might happen.