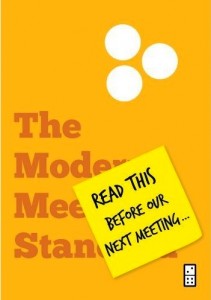 I just finished reading The Modern Meeting Standard – Read This Before Our Next Meeting. I was going to wait a few days to review it, but I wanted to tell you about it in time to take advantage of a special free give away. For a limited time you can get Read This Before Our Next Meeting Kindle Edition for free. (Don't forget you can read the Kindle Edition on most cell phones and computers even if you don't have a Kindle.)
The book lays out a plan for more effective meetings with the following seven principles:
Meet only to support a decision that has already been made.
Move fast. End on schedule
Limit the number of attendees.
Reject the unprepared.
Produce committed action plans.
Refuse to be informational. Read the memo, it's mandatory.
Work with brainstorms, not against them.
The book is an easy read. It is only 66 pages long and very much worth the investment of your time. Many of the principles are similar to the points we covered in 9 Tips for Effective Meetings.
It is easy to overlook the cost of meetings to an organization.  Tools like the Time is Money timer help with this, but  you really need to change the culture of your organization.  Getting everyone you work with to read this book is an excellent way to start.  Just send your team the following link and encourage them to download their copy, but do it soon because the free offer is just a temporary thing sponsored by Citrix: