This post was originally published October 29th, 2007.  I'm bumping it up because in today's financial climate it is extremely important.  If you have any experience in dealing with getting money back from FDIC, please read the comments.  Several people are having problems getting their money.  Any advice you can give would help them out.
Recently NetBank was shut down by the FDIC. The FDIC was created to prevent runs on the bank. They insure your accounts so even if the bank goes under, you will get your money back out. In exchange the bank gives up some control. The FDIC can come in, inspect things and force the bank to sell out to another financial institution if the FDIC doesn't feel the bank is managing things correctly.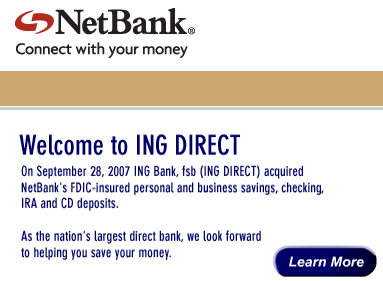 That is what happened with NetBank. Most of the savings/checking accounts were sold to ING Direct (the Orange savings account people). For most people this simply means that people were unable to access their accounts for a few days. FDIC insurance covered everything up to the $100,000 (or $250,000 for IRAs) limits. However, the people who are in trouble are the ones who had money over the limits. The FDIC will distribute anything that is left of the assets to these people, but it looks like they will only get about 50% of the amounts they had over the limits.
The $100,000 limit is per depositor per institution, so you can get another $100,000 in insurance by moving any money in excess of the limit to another bank.  $100,000 may seem like a lot of money, but if you have a consistent saving strategy to plan for retirement and emergencies you are probably going to exceed the limit at some point in your life.  It is important to plan ahead so you don't accidentally end up losing a bunch of money because of a bank failure.
If you have a business this is especially important, because it is very common to have a balance of over $100,000 just to maintain adequate cash on hand for meeting payroll and paying operating bills.
It is also wise to keep an eye on your bank's financial status.  If it is a publicly traded company, keeping an eye on the stock price should give you an idea of how the bank is doing as will the financial statements and SEC filings.  A private bank may be a little more difficult to track, but you can generally get an idea based on their press releases.
Update:  More recently the FDIC shut down another bank called IndyMac also known as IMB or Indy Mac Bank.  On Friday the FDIC seized all of the bank's assets and took control of running IndyMac.  They were open again on Monday, but this time under the government's control.  The bank is now known as Indy Mac Federal Bank.
One of the interesting side effects of this is that the bank stopped foreclosing on homeowners who were in default.  This probably won't last forever, but the government is looking for ways to keep people in their houses if at all possible.
For the approximately 10,000 people with money at IndyMac that wasn't insured, they are being allowed to withdraw up to 50% of their money.  It is possible that they may get more in the future.  People who are under the insured limit of $100,000 are able get their FDIC insured funds out immediately. There have been long lines, but people are getting their money out.  If you have money at IndyMac, it might make more sense to do a direct transfer to another bank instead of going down, waiting in line and trying to get the money out in cash.
Many people end up here looking for an FDIC "watch list" or FDIC "trouble list".  The FDIC never releases its information about banks to the public. They especially don't publish a list of troubled banks.  This is part of their policy. The role of FDIC is to provide insurance–not rank banks. However, they do suggest a  number of third party rating services that can provide information about the financial condition of banks.  Most of these charge a fee. Most of these ratings take the following into account:
Capital
Asset Quality
Management
Earnings
Liquidity
Sensitivity to Markerts
Update 2: Toward the end of July Federal regulators shut down two more banks.  First National Bank of Nevada and First Heritage Bank of Newpart Beach, CA. The accounts were sold to Mutual of Omaha so it appears that no one lost any money.  The transaction ended up costing FDIC under $1 billion.
Update 3: In August the FDIC shutdown First Priority Bank in Florida.  Most of the assets were purchased by SunTrust Bank.  Currently it is estimated that there is about $13 million in uninsured accounts–this is money that depositors will probably only get a fraction of as the bank shuts down.
If you had money at IndyMac, First Priority, or another failed bank, please leave a comment to let everyone know if you were able to get your funds out of the bank and particularly how the process worked.