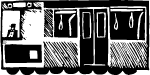 Years ago there was a millionaire who was getting old.  He decided he wanted to provide for his heirs, but he wanted to protect them from poor investments that would make them lose the fortune he had built up.  He had his lawyer draft his will in a way that would provide for his heirs, but only allow his money to be invested in a reliable, solid industry.  The industry he chose was electric street cars.  Within a generation, his descendants were pumping gasoline at service stations.
The millionaire had good intentions, but he was short-sighted.  His basic failure was that he didn't expect change.  He correctly assumed that people would always need cheap transportation.  He incorrectly assumed that electric street cars would be around forever.
While much less dramatic than the millionaire example, most people have some story about loss that could have been prevented by expecting change.  In planning for the future, make sure you don't fall into a trap of assuming that the way things were last year are an indication of the way things will be next.
Originally published on August 21, 2008.