If you want to know how to use Evernote better, check out the ebook Evernote Essentials (aff). It covers a number of different use cases and shows you how to use Evernote to stay organized and get more done. It also covers a number of features that you are unlikely to discover on your own.
Evernote gives whole new meaning to the word "synchronized." This software uses technology to help users organize various types of information from several different sources into one, central, web-based location. The product also allows users to clip web pages and archive them for later reference, store screen shots, photos and text notes, all within a customizable storage system. Evernote will also organize things for you by the date a note or other document was created.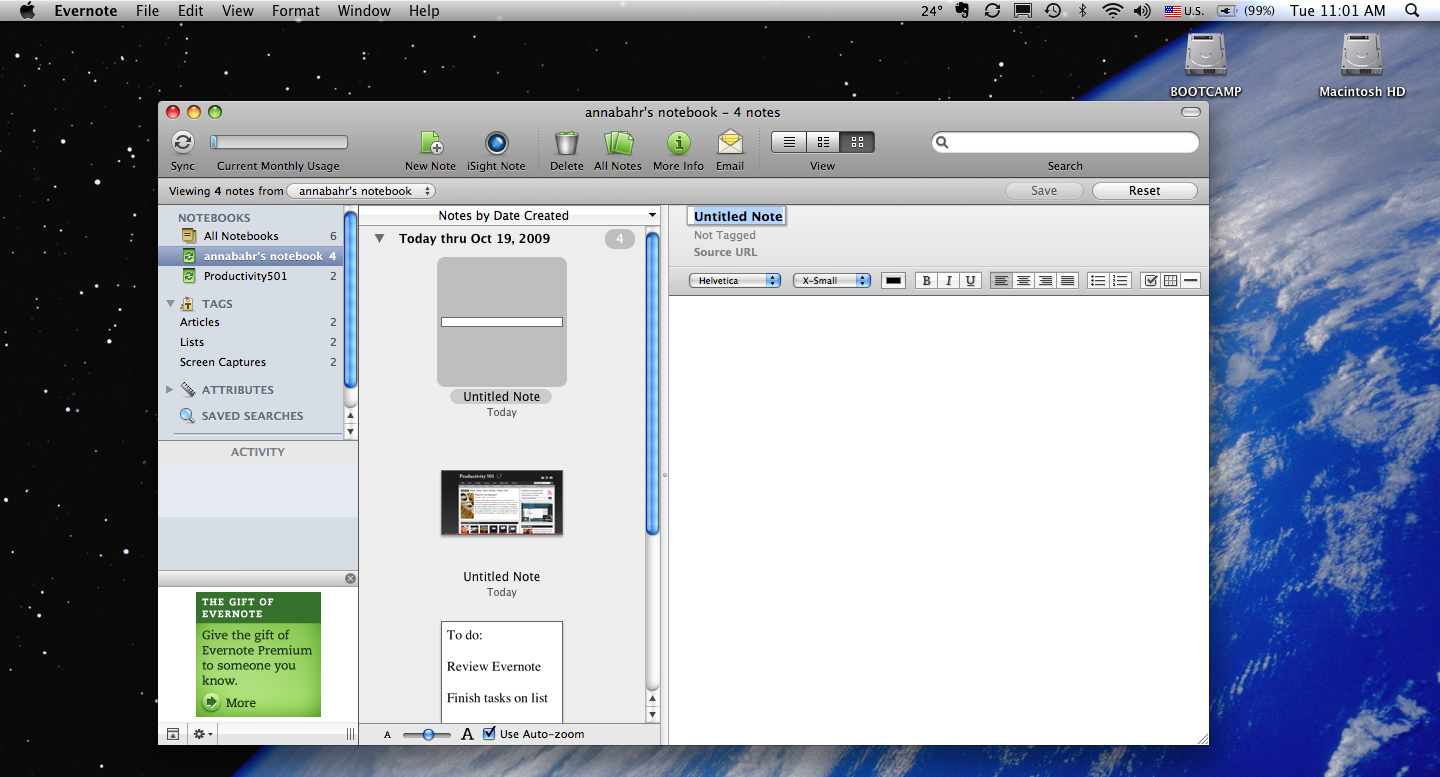 The free version of Evernote allows only so much storage space. To obtain more, users may purchase a version that costs $5 per month or $45 per year. The nice thing about storing everything online is that data is automatically backed up each time the user logs in on any of the synced devices (mobile phone, desktop, laptop, etc.) Evernote runs on many different devices, and is compatible with Windows, Mac OS X, iPhone and iPod Touch, Android, Blackberry, Palm Pre and Windows Mobile. On a side note, the premium version of Evernote also allows users to clip Word and Excel documents into the program.
Notes
Evernote allows the user to create simple text notes, save snapshots, clip web pages, and in some cases, take audio notes. For Blackberry and iPhone users, the audio feature seems to work very well.
OCR
Evernote employs OCR to allow the user to search for images according to the text contained in those images. Being able to search for text in images is a great way to save time. If the user needs to capture important information quickly, taking a snapshot for future reference is a handy option. Often, the OCR will even be able to read handwritten text in photos as long as it is fairly legible Finding the text, later, is easy because of the benefits of OCR. Other reviews have mentioned that the OCR on the free version of Evernote is a bit unpredictable compared to that of the premium version.
Note: Only Premium version users have the capability to search for text in PDFs.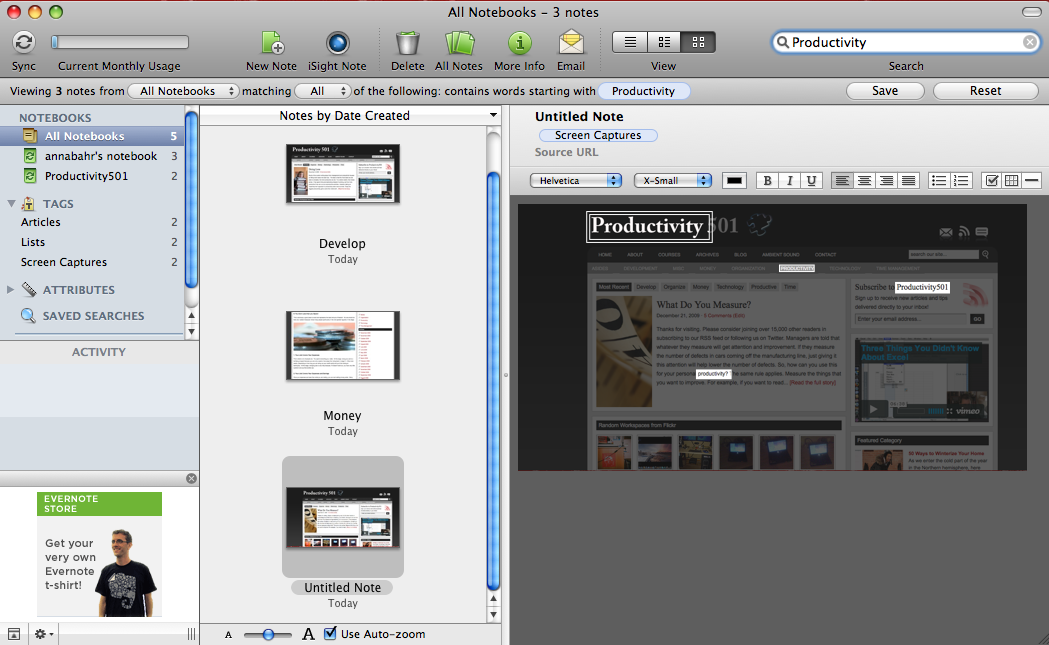 Organization
The most beneficial element of Evernote is it's organizational system. The software contains several different ways to categorize information, such as Tags, Note Titles and Notebooks. Evernote allows the user to keep track of several projects at once with the "Notebooks" feature. The user creates and titles a notebook, then can further organize the information within that notebook with "tags."
Web clipper
Evernote also offers an alternative to "bookmarking" web pages. Instead of just saving the web address, the Evernote web clipper add on for Firefox, Google Chrome, Internet Explorer and Safari allows the user to save the HTML on the web page as a note with just the click of a button (Web clipper installs automatically for IE when the user downloads Evernote for Windows, and automatically when Mac users download Evernote for OS X).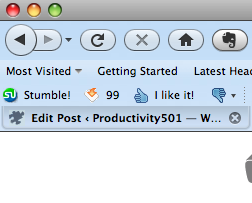 Web
With Evernote, you can access your notes from any computer that has Internet capabilities. The interface is very similar to that of the desktop version, and should not be troublesome to those that have already used the desktop version of the product. One neat feature of Evernote Web is that the user can share notebooks with either individuals or the whole world. Using the "Sharing" function, the user can specify which individuals to send the notebook to, or create a URL that is posted for everyone to see.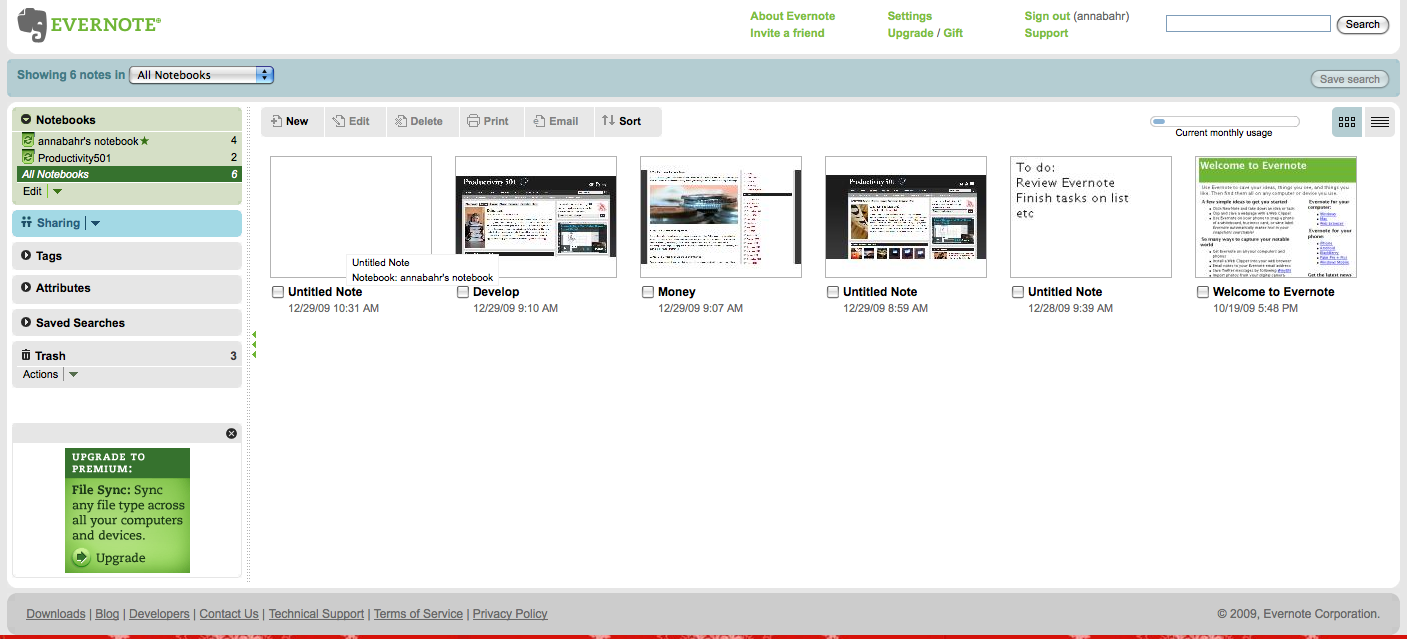 Encryption
Evernote offers a neat function for those that store sensitive information in their notes. For those that want an extra layer of security on the Desktop version of Evernote, the user can right-click on any highlighted information, then select "Encrypt Selected Text." The program asks the user to type in a passphrase to be used to decrypt the information for future access.
Note: Evernote does not store the passphrase anywhere, so you're out of luck if you forget it. The box that opens to ask for the pass phrase has this same warning written close at hand, so it is a good reminder.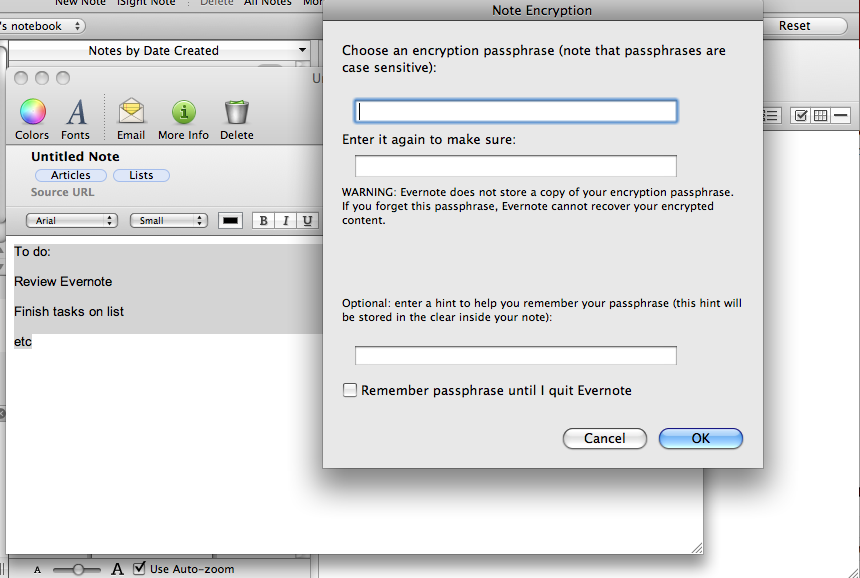 Conclusion
For those that find themselves drowning in piles of sticky notes, Evernote is a much improved alternative to the former. The organizational system and OCR make it worth a look for those that are looking for help in organizing ideas at work, school or just bits of data from every-day life. If you are looking for a book on Evernote, I highly recommend the Evernote Essentials book.