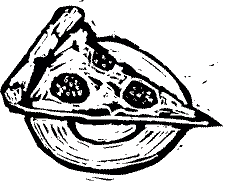 Like most technological advances, email can help productivity, but it
can also hurt it.  It takes intentional effort to reap the benefits of
advances without suffering from their negative side effects. Easy communication is good when you have something that needs to be communicated.  Easy communication is bad when it means you are saying things that just waste everyone's time.
I ran across an article titled "Efficiency Experts" that talked about how Joe Phelps (CEO of the Phelps Group Inc.) explained proper use of email to his staff using a recent example of an employee who had used email to try to track down who stole his piece of pizza.
With technology revolutionizing office
communications, Phelps stresses the need to tap the right tool for the
right task. "There are three ways to communicate now within our
organization: E-mail, voice mail, and face mail," he explains. "Each
one has a different bandwidth. When you walk into my workstation,
interrupt me, and give me a little schedule change, you've used the
wrong medium. E-mail me with that. You don't need a lot of bandwidth.
On the other hand, if you try to handle an emotionally charged subject
with E-mail, you're using the wrong medium, too."

But that's not to say that just because a
matter is small, it is necessarily fodder for E-mail. Phelps recently
explained this to his staff, using a case of purloined pizza to
illustrate the point.

The Phelps Group is small enough that anyone
can push a button and send an E-mail to everyone. One employee recently
did just that, asking, "Who took my slice of pizza?" from the group
refrigerator. Armed with a perfect teaching tool, Phelps ran through a
bit of math at a company wide meeting. Assume–for mathematical
simplicity–a billing rate of $60 an hour, or a buck a minute. Roughly
50 employees. Say it took each a half minute to open the "pizza
message," read it, and put it in the trash. Twenty-five minutes at a
dollar a minute–$25 to try to finger the pizza thief. Says Phelps:
"Since we all share 40 percent of the profits, everyone quickly grasped
what general E-mail distribution means."

(Inc Magazine 1997 Vol. 19 Issue 13, p38,)

Originally published on November 13, 2005.