A MULETEER set forth on a journey, driving before him an Donkey and a Mule, both well laden.  The Donkey, as long as he traveled along the plain, carried his load with ease, but when he began to ascend the steep path of the mountain, felt his load to be more than he could bear.  He entreated his companion to relieve him of a small portion, that he might carry home the rest; but the Mule paid no attention to the request.  The Donkey shortly afterwards fell down dead under his burden.  Not knowing what else to do in so wild a region, the Muleteer placed upon the Mule the load carried by the Donkey in addition to his own, and at the top of all placed the hide of the Donkey, after he had skinned him.  The Mule, groaning beneath his heavy burden, said to himself:  "I am treated according to my deserts.  If I had only been willing to assist the Donkey a little in his need, I should not now be bearing, together with his burden, himself as well." ~Aesop
Have you ever had a small problem that you didn't feel like dealing with? Something that was easy enough to ignore where there didn't seem to be any harm in just putting it off? Enough about donkeys and mules. Let me tell you how I ruined two perfectly good garden hoses.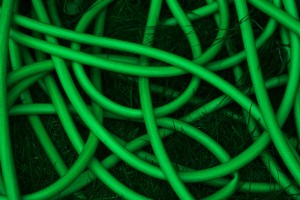 Last week we went to Florida. (You know there is something wrong when you head to Florida to beat the heat in Kansas.) Anyway right before we left we got a lot of rain so when we came back the yard was well past the point where it needed to be mowed. We have about 2.5 acres and even with a 54 inch riding mower, it takes a while. I didn't get started until late and was racing the encroaching darkness. I had a few hoses set up to water some trees and an area of the yard on a timer. I didn't want to take the time to wrap them all up so I decided to just mow over them. Even with the blade on the highest setting I managed to nick the 100 footer that ran to the trees. It was small enough that I thought I could probably repair it, but I didn't learn my lesson and 5 minutes later managed to completely mangle a shorter hose cutting it into a bunch of foot long pieces and getting it wrapped tightly around the left blade of the lawn mower.
By the time I got the hose off the blade, picked up my mess, threw the trashed hose away, and then patched the nicked hose I spent way more time than it would have taken to simply move the hoses and that doesn't even include the time  I'm going to have to spend to go get a replacement for the hose I destroyed.
Shortcuts are often the longest way of doing something. I'd write more, but I need to go to the store to get another hose.