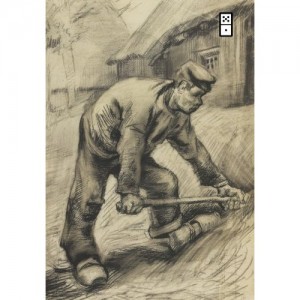 Steven Pressfield is  the author of a number of  books including The Legend of Bagger Vance and War of Art. His newest book Do The Work walks you through a process for getting work done.  This quote gives you a good idea of what you'll find in the book.
Our enemy is not lack of preparation; it's not the difficulty of the project, or the state of the marketplace or the emptiness of our bank account.  The enemy is resistance. The enemy is our chattering brain, which, if we give it so much as a nanosecond, will start producing excuses, alibis, transparent self-excuses, alibis, transparent self-justifications and a million reasons why he can't/shouldn't/won't do what we know we need to do.
Steven designed the book as a guide for finishing a project.  While it is geared toward people who are working on a writing project,  much of the content is readily adaptable to any type of project.  Some of the points from the book:
The biggest thing holding you back is yourself.
Research often becomes and excuse for not producing something.
If you want to make something you have to dive in and start making it.
Over-thinking can hold you back.
It is more important to write (or create) something than to get it right.
Get it on paper and then edit or redo, but don't let thinking and planning slow you down.
The book is short and can be read in about an hour. It is part of the Domino Project founded by Seth Godin.  They sent me a copy to review.
Now for the free part.  General Electric has sponsored the Kindle version of this book, so if you are interested you can get a free digital copy of it as long as you get it before May 20th.  Don't own a Kindle?  No problem, you can get Kindle software for your phone or computer to read it as well.
Even if the book isn't something you think you are interested in right now, I'd highly recommend getting the free version added to your Amazon account.  The next time you are getting ready to start a big project you might find it is just what you need to get started off in the right direction.