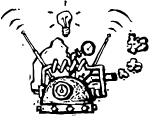 I have to admit, I'm a gadget lover.  I like playing with phones, cameras, personal organizers and all kinds of electronic devices. I'm not quite as much an addict as I used to be, but I still like mobile electronics.
Some of these gadgets can be really big time savers and a good investment.  Other gadgets are great fun to use, but the time they save is offset by the time they cost.  Then there are the gadgets that make you think you are being more productive, but actually make you waste time.
Here are some of the things that I look for in a gadget to help make me more productive:
Better Use of Downtime – Everyone spends time waiting for planes, waiting for appointments, driving in the car, etc.  If a device can help you regain 30 minutes of lost time every day, it expands your opportunities.
Simplicity of Design – There are many devices that could potentially let me make better use of down-time, but they are complex and would require an investment of many tedious hours in learning how to use them.  For example, there are small, one-handed keyboards that work with cell phones. They use a special method where different two key combinations represent different letters.  Someone who masters the specialized skill of typing on them can quickly respond to emails over their phone, however, acquiring this capability is not a trivial task.
Integration with Existing Systems – The value of a gadget is often more a function of its integration with your existing systems and less a function of its feature set.  A mobile email device that stays synced with my existing calendar, address book, and message store contributes far more to productivity than one with many more features that requires me to change my existing systems.
Size – The physical size of a device determines how likely it is that I will bring it with me.  If I never take it with me because it is big, bulky or just poorly shaped, it isn't that useful.
Necessary Accessories – This is related to size.  A device that uses my existing charging cables, headphone, etc. is much more valuable to me than one that requires yet another charging system for my house, a charging system for my car, an additional headset, a different type of cable to connect to my computer, etc.  Device manufactures have started to remedy this by using standard USB connections for charging devices and for the computer interface. When I look at a new device, the ability to charge it with a standard USB cable is a big plus.
These are some things to think about when selecting a device.  In a later post, we'll look at some ways to get better use out of your existing devices.
Originally published January 29, 2007.