When you send out an email to a group of people, simply putting them all on the to field is bad form.  First, it exposes all the email addresses, so everyone can see everyone else's emails.  Second, if someone accidentally hits "Reply All" instead of "Reply" their response can easily be sent to the entire group instead of just you.
A few years ago, I got an email from a friend who was studying at Yale.  It was a yearly update about what was going on in his life.  He put everyone he knew in the To: field.  This included old classmates, current professors, relatives, etc.
One of his friends got the message and decided to respond with an update of all the stuff going on in her life.  She accidentally hit the "Reply All" button and sent a bunch of personal details to a list of mostly complete strangers.
There was another case awhile back where a real estate company sent out a message to a bunch of people looking for apartments in New York.  Everyone was listed in the To field which provided a very handy list that any recipient could quickly sell to a competitive real estate company.
There is a simple way to prevent this.  Simply put yourself in the To field and everyone else in the BCC field.  That way both "Reply" and "Reply All" will only come back to you and recipients can't see each other's email addresses.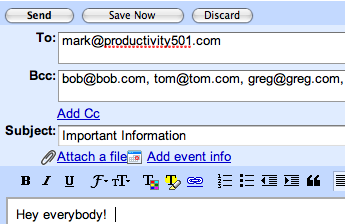 This image shows how this type of setup should look in Gmail. Often the BCC field is hidden or needs to be expanded before you can add people to it.  If you can't find the BCC field, look around or read the help file.  It is almost certainly there, but you may have to turn it on.