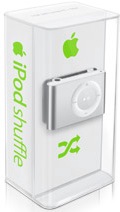 Just a quick note to let you know the status of our iPod Shuffle giveaway. The contest is an unashamed self promotional strategy to get you the reader to sign up to get new Productivity501 posts directly into your email inbox.
The contest is still running. We weren't able to hit our goal of 250 email subscribers by Christmas, but we are very close. We need another 25 subscribers to get to our goal of 250 subscribers to our email list.
If you haven't signed up already, you can use the form on the right hand side of the page to enter. If you've already entered, you can help by encouraging your friends to sign up. The sooner we get 250 users the sooner we'll give away the shiny new iPod Shuffle to one of the lucky subscribers.
You can get the full details for the contest from our entry about the contest.