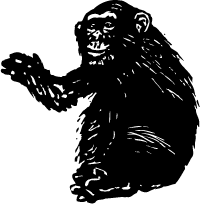 Psychologists have been doing some experiments with chimps and young children looking for differences in the way they solve problems.  In one of the experiments, they gave chimps a clear box containing food.  The scientists showed the chimp how to open the box, but included several steps that were obviously unnecessary.  When the chimps were left alone with the box, they retrieved the food imitating the method they had been shown.  However, the chimps eliminated the unnecessary steps.
The scientists then tried the same experiment with 3 and 4 year olds.  Unlike the chimps, children imitated the entire sequence of actions they had been shown, including the unnecessary steps.
This is an interesting difference.  The chimps were focused on finding the fastest way to achieve the goal, while the children were more interested in recreating the process they had previously seen.  The fact that humans are wired to repeat processes, even non-productive ones, can give you some insight into making yourself more productive.
By making a conscious effort to focus on your end goal, you can help avoid getting into a rut of process for process' sake. Having a process can be very valuable, but learn a lesson from the chimps and make sure your focus is on the end instead of the means.
Originally Published on December 22, 2005.