We've made a lot of changes to Productivity501's look over the past week and I wanted to point out some of the changes. If you have any suggestions please post them in the comments. Since I haven't had a single comment about the new look, I've been worried that either everyone hates it or all of my readers are strictly using RSS. :)
New Theme
For those of you who only read Productivity501 in a feed reader or email, be sure to checkout our new look. The site has been redesigned in a way that will hopefully make it more usable and a little better looking. I'm still tweaking some things to try to make it a bit more user friendly.
Main Page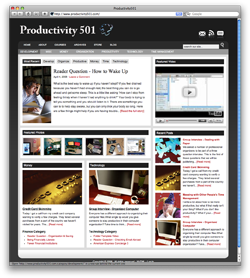 One of the biggest changes we've made is to the front page. In the past the front page listed the full text of the last 10 or 20 posts. With the new site it highlights various posts and makes much more use of pictures.
The idea behind the change is to design the front page for first time visitors to try to engage them in the content. With the old site if the first post or two didn't capture their attention it was easy to move on to something else. The new front page will hopefully show them something of interest by presenting more linked articles at once.
Blog Page
Since the main page is designed to appeal more to the first time visitors, we needed an easy way for regular readers to scan through the site and see if there is anything new. This is the function of the Blog section. It lists all of the posts just like the front page use to. You can go back to previous posts using the navigation at the bottom of the page. This page will also show some content that doesn't show up on the front of the site.
Asides
When I started Productivity501, my goal was to create a site that was primarily articles. This was a little bit in reaction to some of the blogs I had seen that mainly consisted of links to other content on the web. That is where the 501 came from. I wanted it to be a "graduate" blog–a site that is actually producing content instead of just quoting others. Over the years I've avoided posting short posts with links that would be useful to readers because of this focus.
I think I've come up with a good compromise. We now have two types of posts. Regular posts behave just like they always have before. Asides are short posts without a title that make it easy to ad short notes or links to things that might be useful to readers.
This change works out well with the theme change. Normal posts require several photos attached to them to make things show up on the front page correctly. Asides don't show up on the front page, so they don't require these extra images. I'm hoping to use these types of posts to point readers to useful content, tools, and news.
Currently the asides still show up normally in the RSS feed and email subscriptions.  Since the way these are presented is determined outside of Productivity501 it doesn't look like there is a way to style them any differently.
Behind the scenes
Productivity501 has also switched to a different server that will give us a little more flexibility under heavy loads and simplifies a lot of the server maintenance. In the past we've been hosted on rented servers. At the end of the year we purchased our own dedicated machine and the site is now fulling running on that.
We've also upgraded to the newest version of WordPress. If you have a WordPress site, 2.5 is well worth the effort of upgrading. There are a lot of little time savers (like being able to upload more than one picture at a time). It also helps keep you out of trouble if you have multiple users by warning you if you are trying edit a post that someone else is editing. I've been working with my assistant on adding photos to posts and this feature has kept us from overwriting each other's work.