Yesterday I posted an MP3 that I use to give me ambient noise.  The audio is the sound of a brook.  Evidently brook sounds are very popular.  Here is what my outgoing traffic looked like for the past few days.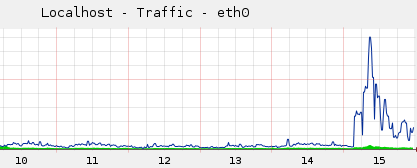 The blue line is my outgoing traffic, which suddenly jumped when it was posted.  It looks like a couple thousand people downloaded the file.  If you were one of the ones who downloaded it, please give me some feedback on whether it was useful or not.  I've got a few other ones with different sounds that I'm thinking about releasing and I'd like to know what was good or bad about the way this one worked.
If you didn't download it and want to check it out, the link is in the bottom of the RSS feed.  You can get it by subscribing to the email feed or using and RSS reader.