I was sent a free copy of Bento to try out. Here is my take on the software after playing around with it for awhile.  We are giving the software away to a reader.  See the bottom of this post for info on how to win.
What is it?
Bento most reminds me of the database program that came with Appleworks on the Apple IIc. It isn't so much that it works the same, but it is geared toward the same type of market. People who need to store database type information without becoming an expert at understanding databases. The program runs on OS X and has the nice look and feel that you'd expect from an Apple application.
Libraries and Collections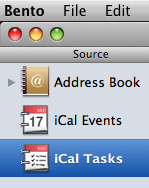 Bento uses the idea of Libraries and Collections. If you think of your address book, that would be a library. If you think of all of the address records of your college friends, that would be a collection. AddressBook in OS X works like this now. You add addresses to the application and then add them to groups. The application corresponds to a Library in Bento and the group corresponds to a Collection.
Bento can pull in your AddressBook, iCal Events and iCal Tasks and display them as Libraries. They are kept synchronized. If you delete an address from AddressBook, it disappears out of the Bento AddressBook library.
In addition to these build in Libraries, you can add a number of other predefined Libraries or even customize your own. So there are libraries for To Do Items, Projects, Events, Exercise Log, Expenses, Membership Lists etc.
Customizing Libraries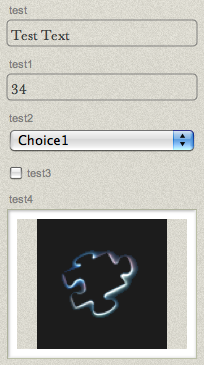 You can customize the existing Library templates or create one from scratch. Bento gives you all the fields you need to add text fields, date fields with calendar popups, pictures, calculated fields, etc. This makes Bento a very good general tool for keeping track of almost anything. Data can be imported and exported so you can easily get data in or out of the system.
Some of the different customized fields can be seen in the image on the right.
Linking Libraries
This is one of the more advanced database functions and Bento does a good job of keeping things simple. The items in a Library can link to other items. For example, if you create a Projects Library you can create records for each of your projects. One of the fields on each record is a list of team members. You can type in team members directly into the list or pull them in from the Address Book.
You can add these types of linked records to your own Libraries. For example, if you have Library that holds all your Projects, you can add another Library that contains To Do items and then link them so you can see all of your outstanding To Do items for each Project from within the Project record.
Working with Your Data
You can view your data as a table (like a spreadsheet) or using a form. You can create multiple forms to hold your data fields. Adding fields to the forms is a simple matter of dragging them from a list and dropping them where you want them.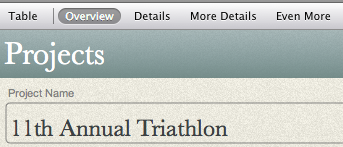 The fields are easy to work with and you can do a lot of drag and drop. For example, you can drag an image from a web browser into the graphic box and then resize it using the same type of tool that is used to add images to Address Book.
Impression
Overall Bento seems well polished. Databases aren't particularly easy to make simple, but Bento does a good job. Once you get familiar with how it works, you'll find yourself thinking "this feels easy" as you make changes and customize your database. If you need a simple database, Bento is worth checking out–especially if you use iCal and AddressBook in OS X already.
Give Away
I have a copy of Bento to give away, so we are going to have a contest. Whoever is the last person to comment on this post, gets a free copy mailed to them. When 48 hours goes by without a comment, the last comment wins. :) Good luck!
That being said, it isn't something I'm probably going to use personally. However, for many people, it can be an ideal way to keep track of information.