Anything You Want is a short book by Derek Sivers.  Derek started CD Baby and eventually sold it to Disc Makers. CD Baby lets musicians sell their CDs online and grew out of Derek's frustration with trying to find a solution to sell his own CDs over the Internet.
Usually when I review a book, I try to give enough information that Productivity501 readers can tell if they should invest in reading it for themselves. This is one of the few books where I feel I can safely say, "just go read it."  It is an excellent book and I can't imagine anyone who wouldn't learn something from it.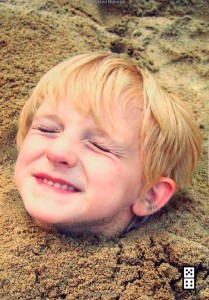 It took me a lot longer to review Anything You Want because I couldn't ever find the book in my house.  It turned out my wife found the cover very disturbing and kept hiding it where she couldn't see it (and I couldn't find it). Don't dismiss it because of the cover. The kid buried in the sand was meant to evoke the feelings of isolation an entrepreneur feels while pursuing their vision.  Maybe I'm just not artsy enough.  The good news is, the dust jacket picture is really the only thing I didn't like.
Derek recounts how he started his company with a focus on his customers that made CD Baby very successful. The book is filled with stories of things that worked well for Derek as well as things that didn't work so well.  Here are a few examples:
CD Baby put a lot of work into setting up the art for musicians CDs.  If the musician changed their mind after everything was done, it meant that some employee had to redo everything. CD Baby instituted a "pizza policy."  If a client wanted them to redo a couple hours of work, they would be happy to–for a pizza. The client could call the pizza shop near CD Baby and order a pizza in exchange for the extra work.
This is a brilliant strategy. It only costs the client $15 to $25, but it puts a human face on the request and makes it clear that someone is going to be doing extra work to process the client's change of mind. It keeps people from asking for extra work that they don't really care about, while staying accessible to people who really need something changed.
On the failure side of things, Derek talks about how he let his employees setup their own retirement plan without really watching what they were doing.  They ended up creating a profit sharing plan where the company's profit was going to them instead of to the owner. When he stepped in and changed things, he became the bad guy.
Derek takes a very balanced approach to business. It isn't about just making more money–he wants to be happy. This is an important perspective that you don't always find in business books.
The book is very short, but full of good ideas and useful perspectives. If you want to improve a business, Anything You Want is going to be one of the best $10 investments you'll make.
Anything You Want is available from Amazon in hardback, audio and digital editions.