Though most computer users are familiar with and use Microsoft Word or a similar product, there are alternatives that many are not aware of. Finding trustworthy software that does not inhibit your productivity can be a challenge. However, the developers at Adobe have come up with an online word processing program that functions much like Word does and has the benefit of being free. As this application is a web based program, it does require an internet connection for the user to access and work on his or her documents. This has a definite up-side, though.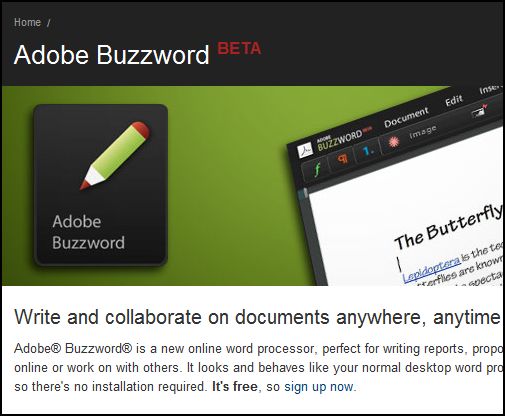 Collaborative work
For those that write with co-authors or  need things to be proof read, Buzzword provides the unique service of allowing an approved guest to comment, edit and even re-write an a document that has been created. In addition to this feature, Buzzword also makes your documents accessible from any computer with an internet connection.  This eliminates the need for the user to send himself/herself an email with the document attached. Another handy aspect of the program is that it shows you, in real time, which of your collaborators is viewing, editing the article, etc. The author may specify the level of authority and privileges that each collaborator has. Each one can be classified as a reader, reviewer or co-author.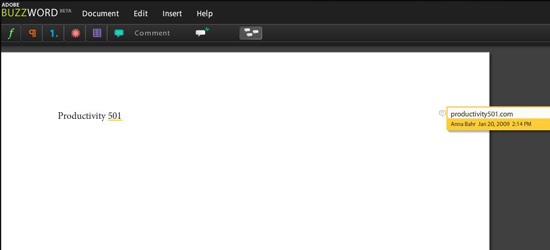 Version History
Buzzword adresses one important thing that most other word processing programs do not. This program keeps previous versions of the documents saved in case the user needs to go back a step. If the user tries an idea that doesn't pan out, there is no need for them to go back and try to re-create the document in its former state.
Image Placement
If you have ever tried to work with placing images in another word processing program, you know how terribly frustrating it can be. Buzzword has put some special effort into eliminating this problem instead of making the user figure out ways around it. With this product, text is set to automatically flow around images so that the images do not disrupt a viewer's reading. There are several different placement options that are easily accessible at the top of the screen once the image has been uploaded. Also, the program provides tools for re-sizing images, which is much more efficient than having to edit and paste them back into the original document.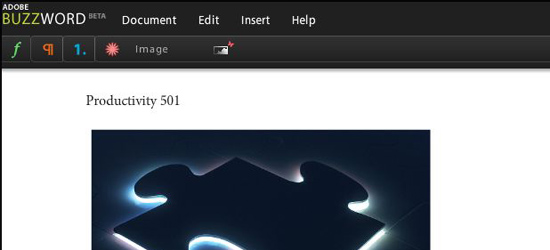 Tables
Creating and modifying tables in Buzzword is an easy and straightforward process. When the user selects the icon to create a table, the program generates a generic table which the user can modify by dragging border lines into the proper placement. Adding new columns and rows is as easy as the click of a button.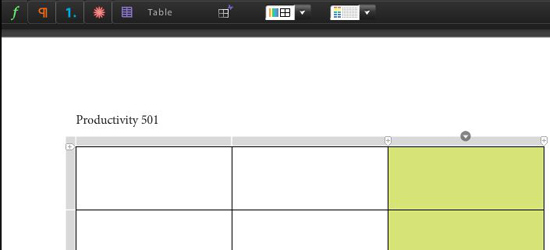 Organization
With a web-based application such as this, some may be curious about how easy it is to keep track of saved documents. With this product, documents can be sorted in a variety of different ways. Some of these include sorting by author, date, file or user role.
Conclusion
For someone in need of a convenient and well-thought-out alternative word processing program, Buzzword may be a good option. The developers have made the layout for each command simple and easy to find. This makes learning how to use the program a simple and fast process. This application would be worth a look if you need to access your documents from many different locations throughout the day.