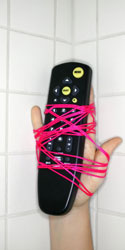 Even if you can find something you want to watch, television is generally a waste of time. Approximately 20 minutes out of every hour is commercials, so when you watch 3 hours of television, you actually are watching 2 hours of your show and 1 hour of commercials. Here are a few ideas to make watching television more productive. (It sounds funny reading that.)
Don't Channel Surf
If there is a show you want to watch, then watch that show. Jumping from channel to channel can eat up huge amounts of time without actually watching anything. Think in terms of having a complete experience: a start, a middle, and an end. If you simply jump from channel to channel you aren't really having any type of experience–you are just killing time and should probably do something else.
Watch Movies Instead of Television
Movies usually have had much more thought put into them. So in general, the quality of your entertainment is higher watching movies than watching television. Watching movies also frees you from getting addicted to watching a particular series each week.
Netflix and Blockbuster
The ability to have DVDs delivered to your home is a great way to take advantage of movies. You'll usually pay much less than you would for cable and be in complete control of when and what you watch. In fact, you could probably subscribe to Netflix and Blockbuster for less than what a decent cable package would cost.
DVD of Television Shows
If you want to watch a television show, consider getting a DVD set after the series is complete. The downside is that you can't discuss the latest episode of Lost or Heroes with your friends at work. The upside is that you can control when you watch it and there are no commercials.
Tivo
A Tivo is another way to handle skipping the commercials and give yourself control of when you watch television. However, it is easy to watch a bunch of stuff that you wouldn't normally just because the Tivo recorded it.
Excercise
Get a benefit out of your television or movie watching by exercising. This works particularly well if you have some type of cliff hanger weekly television show on DVD and you make a contract with yourself to only watch an episode while exercising. The suspense will keep you coming back every day.
Libraries
Many libraries have a great collection of DVDs that you can check out for free or for a very low price. This can be a great alternative to Netflix.
Buying Used on Amazon
Buying a used DVD or set of television DVDs on Amazon can be a great way to get a good deal. Even better, if you turn around and sell them once you've watched them, you can end up paying $3.99 for the shipping to get the DVD set to you and recover the cost of the original purchase when you turn around and sell them to someone else. If you do this, just be sure to keep the DVDs scratch free.
Do Something Else
The best tip when it comes to television is to do something else. Use the time that you'd spend watching television to go for a walk with family, give a friend a call on the phone, or read a book. If you take the amount of time that the average person spends on television each week and put it into education, the hours add up very quickly. With the right program you can get a Master's degree in just a few years using the time most people would invest in television.
Originally published June 9, 2008.