We've had some great response to the Habit List post.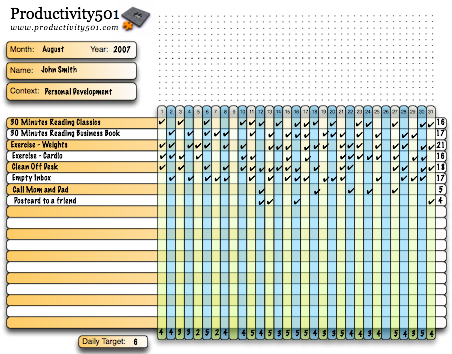 Here are several usage ideas for the Habit List:
Negative Items – If there is something you are trying not to do, you can add it to the list as negative item.  For example, "Didn't watch TV" could be one of the items on the list.
Different Lists for Different Places – Part of the idea of the Habit List is to let you focus on your tasks with habit type items out of the way.  If your habit list gets long, you might want to use different lists separated by where you will use them.  For example, you might have one list for exercise, another list for work, and a third for your home stuff.
Teaching Your Kids – The Habit List also makes a great way to track those little things you want to do to help your kids learn.  For example, you might have an item for going over the alphabet with your toddler each day, or sitting down and reading a book.
Kid Chores – The Habit List can also be a great way to help your children remember chores.  Items like "make your bed", "brush your teeth", and "do homework" are all great candidates for the list.  When I was growing up, my mom made lists like this for us.  If you have access to a large printer, you can even print the list out in a large wall calendar size.
Did and Didn't markings – Normally you want to place a check in the box when you accomplish an item and leave it blank when you didn't.  However, if you find yourself slacking, you might consider putting an X or some other mark in the box for items you didn't do.  This helps keep the undone item from being entirely passive.  If it is something simple you may find that you'd rather go ahead and quickly do it so you don't have to give yourself a "bad" mark.
Keep it Visible – Personally I've found that if my Habit List gets covered up, I stop thinking about it.  Be sure to keep it somewhere visible where you can see it.  If you just set it on your desk where it will get covered with other papers, it is easy to start ignore it.  By putting it on the wall or somewhere else where you can easily see it, your brain will notice it and think about the tasks on the page–even if you aren't consciously looking at it.
Tell Someone Else – One of the best ways to increase the number of habits you check of each day, is to take a few minutes and explain it to someone else.  You can show it to a co-worker, friend, spouse, etc. To your subconscious this will elevate the importance of the list and help solidify it as a priority.
Don't Break the Chain – Part of the idea of the Habit List is to have a light weight list of things you want to do on a regular basis, but where it doesn't matter if things are skipped every once in a while.  There are some habits where you don't want to ever skip a day. For Seinfeld one of those habits was taking some time to write jokes.  Here is an article about how Seinfeld used a method similar to the Habit List to improve his jokes.  (Thanks to Collin for sending me the link.)  You can accomplish the same thing by having a section of your list of items where you don't want to break the chain and another section for things that just need done every once in a while.  I would suggest putting the really important items at the top of the list and fill downward and the less important items at the bottom and fill upward. That keeps them separate, but allows you to add new items if necessary without running out of room.