I had quite a few comments about taking classes online in my post "17 Things You Should Stop Doing".  When LifeHacker linked to the article, they had even more comments from their readers. Many of the comments were negative, saying that you shouldn't take classes online. So, I wanted to take some time to talk about the best way for college to fit into your career.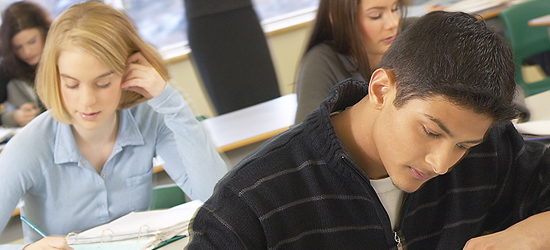 First, here is a little background about my education to give you an idea of where I'm coming from.  I have a bachelor's and master's degree in music composition (both taken at physical universities where I was sitting in class).  I am currently working on my thesis for a master's focused on software engineering that I took primarily through online classes.  I am 31 years old and (apart from one semester after I got married) I have been enrolled in a college or university since graduation from high school. (My areas of interest tend to exceed what a single person can learn in one lifetime.)
This is a potential plan for getting a college education.  It is based on things that worked for me and things that I wish I had done.  It isn't going to work for everyone, so it is probably best to read it as source for ideas–not something you should try to follow line by line.
Get your undergrad degree at a physical university. 90% of what you learn the first 4 years out of high school will not be in
the classroom.  It is often painfully obvious if a 24 year old has been to college–not by their intelligence, but by their social skills.
Live on campus for your undergrad degree. If 90% of what you learn has to do with social life skills, living on campus is a good way to make sure you don't miss any important lessons.  I'd also suggest living at least 2.5 hours from your home. If you are any closer, it starts becoming too easy to go home every weekend.
Network. Your undergraduate friends are likely to be some of the strongest friendships you'll build.  Make an effort to meet new people and to stay in touch after college. Choose your close friends carefully because they will have a great impact on the habits and traits you develop.
Choose a school where people are smarter than you. If you are in the top 10% of the students at your school, it is unlikely that you will reach your full potential like you would if you were in the bottom 50%.  Professors have to tailor their courses toward the average student.  If the average student is well below what you are capable of, then you won't get as much out of the classes.  Unfortunately, this often means going to the school that offers you the least in scholarships.  If you do go to a school where you are in the top percentile, make sure you constantly push yourself beyond what is required for an A.  Realize that getting an A may be like getting a B or C elsewhere and is not an indication of whether you really achieved your potential or not.
Study something you love, but find difficult. This may be controversial, but I don't think your undergraduate degree needs to be focused on getting a job.  You will probably get more use out of a degree that made you a smarter person than a degree that prepared you for a particular industry that might be shipped to India in 4 years. Use your undergraduate degree to learn how to learn and how to think. For me, this was studying music theory. Choose a field where you can pour your whole heart into it.
Learn to write. Take classes that require lots of writing.  In the workforce, a lot of your co-workers are going to shy away from writing.  If you have developed your skills in this area it will help set you apart–regardless of where you are working.
Get a summer job. Don't go for the job with the most money.  Choose the one where you will learn the most.  See your summer job as part of your education. Use your summer job to develop some type of skill that you can make good money at.  For me, this was working in computer networking.  If you can get a job during the school year to get more experience, that is even better.
After graduation, get a job. Hopefully your summer jobs will have given you a good idea of what you like doing.  Take that experience and put it to use.  Once again look for a job that will give you the best experience for the future, not just the best short-term pay. Also, look at their policy on paying for continuing education.  A job that pays less, but offers generous reimbursement for classes toward a Master's degree, may be much more valuable than a higher paying job. Keep in mind that you are wanting more than a paycheck.  This job is a networking opportunity.  Try to build a base of people who will give you a good recommendation later on in life.  Take on projects and responsibilities to specifically fill out your resume.
Get a Master's degree through distance education. If you like what you are doing, get the degree in that field.  If you don't, choose another complementary field. Ideally, choose an area that your employer will help pay for classes.  Choose the best school possible (I have been impressed with Harvard and Stanford's distance education setup).  Working full time and taking classes at night is hard, but it can be well worth the effort.
Look for your dream job. Now that you have a few years of experience and a master's degree in a field you enjoy, you need to work
on a plan to get your dream job.  It may take a few more years of getting additional experience, but know where you are headed.  For me, my dream job was to own my own company.  It took a number of years and a lot of hard work.  I'm still not completely where I want to be, but I'm definitely headed in the right direction.
Never Stop Learning. The world is not going to stay the same and neither should you.  It takes a conscious effort to acquire new skills for the rest of your life, if you want to stay on top.  Take advantage of distance education, but don't overlook other non-classroom types of training.  Working with someone you really admire can be even more educational than spending a semester in a classroom.
Originally published on April 25, 2007.