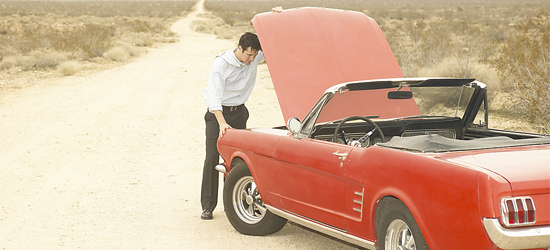 In my computer bag, I have small stack of papers that is worth a bit over $10,000.  This is a story about the importance of keeping good records.
Before my wife and I went to Mexico, we decided we needed a new car.  Our Buick had well over 200,000 miles on it.  The high mileage wasn't a problem, but the area where we were going couldn't easily get Buick parts.   It was a similar situation with our 20 year old BMW.  After some checking, we found that Volkswagens were pretty common and there was even a dealership in the area where we were planning to live.
We test drove about 15 vehicles before we found one we liked.  It was an off-lease 2003 Passat with a bit over 50,000 miles on it.  This gave us about 10,000 miles left of the power train warranty.  After checking it out, the only serious problem I could find had to do with an oil sludge buildup that occurred on some of the cars with that engine.  I talked to Volkswagen and they informed me that there was an extended warranty for that problem for an additional eight years with unlimited mileage–in the rare event it happened.
We bought the car and drove it in the US for a while before our move.  I had a dealer do all the preventative maintenance and asked them to check and make sure it didn't look like there was any type of problem with oil sludge.
Everything checked out and the car worked great, getting us to Mexico without a problem and back when we decided to move back to the U.S.  I regularly had the oil changed–most of the time at a dealer.  Everything seemed fine until about 82,000 miles when the low oil pressure light came on for about two seconds and went off.  A few minutes latter the check engine light came on.
We took it to a dealer and explained the problem.  They checked it out and said that there were some vacuum tubes that needed replaced and that the spark plugs (which had just been changed) were now ruined and needed replaced as well.
We thought we were all set as we headed to Colorado, but somewhere in the middle of no-where, Western Kansas, the low oil pressure light came on again.  I called Volkswagen, who put me in touch with the nearest VW dealer (about 3 hours backtracking from where we were).  The mechanic told me that it was probably the sensor going out.  He said it could be an oil sludge issue, but since I had just had a dealer look at it, the sensor was probably at fault.
We continued our drive for about 30 minutes before the car completely died and wouldn't start.  It turns out that the sensor was working properly and the oil intake had been plugged by oil sludge.  After getting our car towed to a Denver VW dealership, we were told that there were two parts to get approval for an engine replacement.
The mechanics would have to look at the engine and send photos to VW headquarters to determine that it was really oil sludge.
VW corporate would have to see my oil change records to determine that I had maintained the car properly.
At the VW dealership, I was told that the records were usually the biggest sticking point.  It took me about 30 minutes to sit down and go through my papers to create a detailed list of all the oil changes and put the documentation in the right order.  I gave Volkswagen a spreadsheet listing each oil change, the date, and the miles since the previous oil change.
I sat down with the service representative and walked him through the records.  He seemed pretty surprised that I had everything right there.  When he told me that there wasn't anything else he could think of that VW would want, we continued on our vacation in a rental car.  About a week later, we came back through and picked up our car with a new engine.
So, basically, that stack of papers showing my oil changes was worth a new engine–about $10,000.