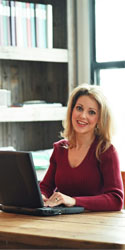 High-Paying Work-from-Home Jobs–AOL
This article describes several different ways that a person can work from home and still earn a good salary. The list includes many different options from several areas requiring various skills. Some of the job suggestions include running a travel agency, Medical claims processing, graphics design, property managing etc.
Going Green by Working from Home-Sun
It is interesting how gas prices and other environmental factors have inadvertently encouraged many companies to "go green". Sun has made it an option for some of their employees to work from home about 2 days per week. This small change has allowed employees to save approx. $1,700 in gas costs and much wear and tear on their cars and tires. These small changes to employees' work locations has not only benefited the employees themselves, but also the environment.
Why Working from Home May Not Work for You Either-Kristina Summers
In this article, the author explains that, though working from home might be a viable option for some people, it could turn out to be unprofitable for some. The rise in gas costs has made a big difference in the way many Americans think about commuting to work every day. However, there are certain factors that may make working from home difficult for some individuals.
Polk Court Employees Could Soon Work from Home-Fox News
Developments in communications technology have come a long way since years past. Because fuel prices have risen dramatically in the past few years as well, the county officials of Polk County are now setting up a system that allows Polk County Courthouse employees to telecommute to their jobs.
Will You Make Money from a Work At Home Business-Rosie Cottis
This article offers some advice to help a work-at-home business succeed. The author points out that some home businesses fail because the owners are deceived by get-rich-quick schemes, and to avoid offers that sound too good to be true. The author also recommends designing a business system that is tailored to your own talents and preferences.
How Green is Home Working?-The Green It Review
In this article, the author examines the claims by Sun Corporation that its work-at-home program is environmentally helpful. Although Sun's employees that commuted every day do benefit from using less gasoline, the author mentions that heating and air conditioning costs are not mentioned in the description of how the program aids in saving the environment.
Save Money-Work from Home-But Be Ready for Mobile Challenges-Calahan Solutions
In this article, the author talks about the psychological and organizational requirements that a work-at-home job requires of a person. Because the way they dress affects the performance and productivity level of some people, the author recommends that a person dress in jeans or slack instead of PJ's for a day of work from a home office.
How to Work from Home-Simply Stated
This article highlights the important measures needed for a person to successfully work from a home office. The author specifies some different techniques that can be used to keep your "home" life from interfering with your "work" life. Some of these suggestions include using a work space that is set separated from the rest of the house with a door, keeping the television in a separate room, and to make yourself presentable even though you are still at home.
Working from Home-Student/Doctor Forums
Sometimes working from home sounds so good that we forget how much planning and organization goes into the process of setting up a successful work environment from a one's own home. Though the convenience of location is wonderful, there are certain measures that must be taken to ensure that a person's workspace remains distraction-free and that the technical requirements for telecommuting are in place and functioning as they should.
Working at Home-Julie Richman
In this article, the author relates her own experiences from working at home. She emphasizes the need to actively separate a person's work space from the rest of the home, as well as creating a certain system and schedule to keep work getting completed on a timely basis, much like what would be required for a traditional job.