As we enter the period of New Year's resolution, I wanted to republish the Habit List which is my most powerful tool in developing new habits.  Happy New Year!
Note: The PDF mentioned in this post is now available as part of the Habit List Course. You can enroll using the form below:

Earlier I talked about the "Habit List" I've been using. I wanted to walk people through the tool and show you how it works in this post. First lets revisit the theory behind it.
This tool was created with the premise that "habit" type tasks should not be on our regular todo list. There are several reasons that keeping these types of items on your regular todo list is a bad idea.
"Habit" tasks tend to obscure the most important tasks that have to be done.
The value of a habit, is measured over time–not just a particular day. Regular todo lists don't allow for this.
When your todo list is full of "habits" it is easy to get discouraged when you have a particularly busy day because the focus is on that day instead of your overall lifestyle.
The Habit List is designed to show you how you are doing an entire month at a time. The idea was to create a light weight tool that makes it easy to focus on whether or not you are regularly practicing your list of habits and minimizes the focus on a particular day. In other words, if I don't exercise on a particular day, it really isn't a big deal. What I want to watch for are times where I don't exercise for an entire week.
Here is a shot of the entire Habit List: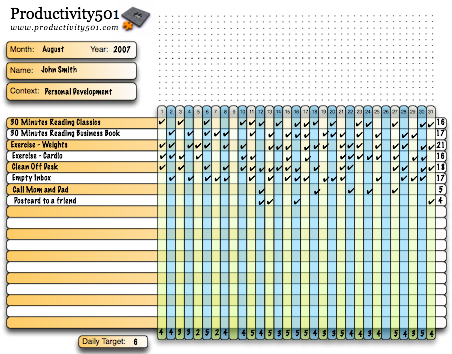 In the upper left hand corner is a place to put your name, the date, and the context. The context is in case you want to have multiple lists for different areas. For example, you might use one list just for exercise and another for your reading plan. most people are probably going to be fine with just a single list.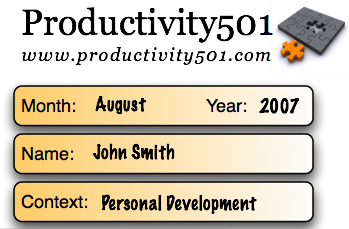 Each task is listed on a row with a square for each day in the month.

Each day, you check off habits as you practice/complete them. There is nothing wrong with skipping over an item if you can't fit it in on a particular day. However, the Habit List lets you see at a glance if there are any areas where you may be slacking off.
At the bottom of each day, there is a place to total how many habits you were able to practice. There is also a place to note your daily target if it helps encourage you.

At the end of each month, each task has a place to total the number of times you were able to practice it. This is just to give you a quick checkup to make sure you are practicing the things that are important to you. It lets you see if your time is being spent in a way that aligns with your priorities.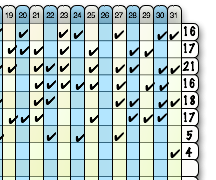 Here is a link that will take you to a larger screen shot of the entire example Habit List.
The idea is that the tool should be extremely light weight and flexible. It took me a little longer to make it available because I had added a bunch of features to it. When I stopped and looked at what I had done I thought, "Wait a minute, I would personally never use all this extra stuff." So I simplified it back to the system that I'm actually using.  There are many different types of time management software and time management tools that you can buy.  Many have lots of features, bells and whistles.  The Habit List is designed intentionally to be simple and do one thing very well.
If you want to get a copy of the PDF, simply sign up for the Habit List email course (at the top of the page) and it will be sent to you.  If you are reading this in an RSS reader, you may need to visit the site in order to see the form.
Originally published July 2007